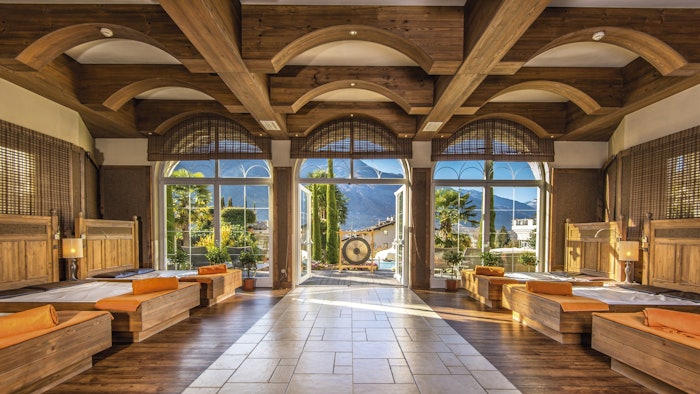 [Courtesy of Preidlhof]
Preidlhof in South Tyrol, Italy, has announced its wellness retreats and programs for 2023, with a variety of courses and healing sessions focused on better sleep, digital detox, perimenopause and menopause, weight loss and personal connection. Preidlhof's 2023 wellness retreats take place throughout February, March, June and September.
Related: Holistic Health Retreat Blends Sound Healing, Yoga & Meditation at Four Seasons Bora Bora
Wellness courses are also available exclusively to retreat guests that include sound yoga, mindful eating and sensory analysis, dance, yoga nidra, holistic movement, a dynamic holistic class and a postural gym. There is a new dynamic holistic class in the mornings. 
One of Preidlhof's signature treatments, Freedom for Two Aroma Ritual (110 minutes), offers the option to choose between three different versions: one specifically for two women and embracing the feminine; one for two men and enhancing the masculine; and a third, celebrating the union of the two. The sensory ritual harnesses essential oils and ancient wisdom like moxa and includes a deep face and body massage, scrub or body cleanse.
Preidlhof also has two outdoor suites with a garden spa and a wellness healing gourmet menu that is predominantly plant-based.
Learn more about each wellness retreat at Preidlhof below.
1. Integrated Wellness Retreat 
This integrated wellness retreat is designed for a wider audience that includes daily healing sessions, Ayurveda and osteopathy-based sessions.
2. Menopause Retreat 
This seven-night retreat supports women in both perimenopause and menopause, and those preparing for or seeking fresh inspiration, excitement and a more holistic approach. The retreat guides a mindset shift to focus on the pleasure of being alive and a woman, helping define one's path with a spiritual touch.
3. Weight Loss Retreat
This seven-night retreat helps to discover pleasure, improve awareness and activate a weight loss mentality. The Weight Loss Retreat coordinator will help the guest focus and benefit from the program's vast offering, tracking progress along the way.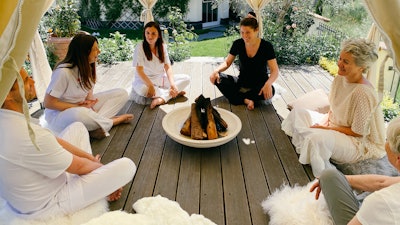 4. Energy and Healing for Two (Glowing Flow)
This five-day retreat balances hedonic and eudaemonic wellness to make guests feel lighter, more joyful and more aware. The program includes individual treatments and shared massages, sensorial training together and time for nature and recuperation.
Related: Safari-Inspired Wellness, Historic Bathhouses and More at These 4 New Spa Resorts
5. Calmer Nights for Brighter Days (Glowing Flow)
Preidlhof's highly personalized six-night wellness program is designed to deepen and transform sleep and find a personal rhythm. A bracelet is worn throughout the stay and is connected to a sleep lab where doctors specializing in sleep medicine evaluate the quality of sleep.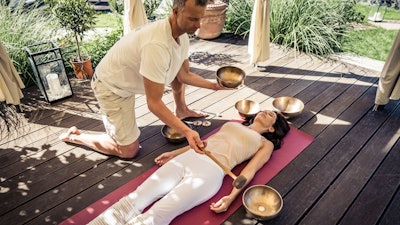 6. Holistic Fitness Retreat (Glowing Flow)
A re-energizing and regenerating six-night program based on the latest neuroscience analysis and ancient practices. This retreat encompasses a new approach to movement and includes a personal holistic trainer, a private outdoor experience and an integrated healing massage.
7. Digital Detox Kit (Glowing Flow)
Guests can trade in their smartphones for a Digital Detox kit. Preidlhof is certified as a "Quiet Place" by the Quiet Park Association for the silent beauty of its natural surroundings. This program allows guests to swap virtual interaction for real engagement.