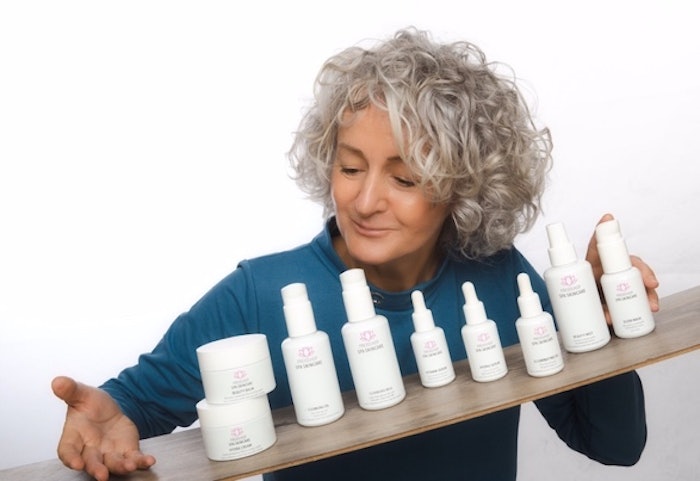 Courtesy of Preidlhof
The wellness destination, Preidlhof in South Tyrol, Italy, known for its whole-person centered approach to well-being, launched a signature skin care line. 
The skin care collection is the culmination of years of research that created an innovative, natural and environmentally friendly, vegan line. It's created by an all-woman team of friends and professionals who share the same values and commitment to clean, sustainable beauty. 
Preidlhof's skin care line contains sensorial formulas with concentrated botanical and biotechnological actives that respect the environment and biodiversity. The wellness destination will feature the line in a 2023 facial and sell the products in the spa, on the website and at other select retailers. 
Related: Thermal Water Treatments & Garden Spa Suites: Preidlhof's Summer Offerings
The launch contains eight face products including: a cleansing milk and oil, a moisturizing cream and serum, an illuminating mask, a multivitamin serum with vitamin C, an illuminating oil, a nourishing butter and a moisturizing spray essence. Products are formulated to improve the appearance of the epidermis while working deeper to promote skin health and relaxation of the body and mind. 
The products were extensively tested by Preidlhof's multigenerational wellness team up to the final decisions and also evaluated to meet the needs of the market. The research is based on the technology of stimulation of plant stem cells together with a mix of Italian fruits with a Mediterranean flavor. Functional ingredients used include stem cells of chili pepper, prickly pear seed extract and edelweiss. 
Preidlhof's new facial collection embraces the destination's wellness concept created by spa designer and transformational wellness coach, Patrizia Bortolin. She created the products working in close collaboration with Francesca Di Lenardo, Friulian, owner of Insium, and Monia Segato, a marketing expert in the cosmetic industry. 
"In creating this line for Preidlhof, I wanted to also be able to apply it to my own skin as this is my weak point, it requires a lot of attention to remain beautiful. It could only be a clean and vegan line, one that is essential, versatile and effective," said Bortolin. "It is characterized by a strong Mediterranean note, the same that you breathe here on the 46th parallel where Preidlhof is located, and like the Resort, it promises a balance between hedonic and eudemonic well-being, pleasure and value, lightness and commitment."