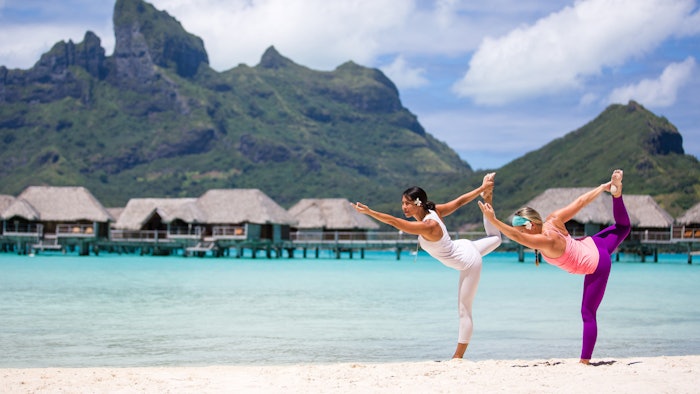 Photo courtesy of Four Season Resort Bora Bora
Four Seasons Resort Bora Bora is hosting Awaken - an Immersive Wellness Experience, taking place on Feb. 4-9, 2023. Led by international wellness experts Claire Grieve and Koya Webb, guests can take part in five days of experiential programming. 
Related: 7 Wellness Secrets from Health Coach Koya Webb
Wellness retreat attendees will have access to unique experiences created to soothe the mind and body, offered in partnership with Paper & Diamond. Guided by by international yoga specialist Grieve and holistic health coach Webb, the retreat focuses on well-being, self improvement and creating healthy habits. 
Wellness Offerings
Mindful Mornings: Led by Grieve, guests will greet the day with a gentle routine of yoga, stretching and Pilates fusion, followed by a combination of breathwork and alchemy crystal sound healing to balance the nervous system, energy, mind and body.
Stand-Up Paddleboard Yoga: Following sun salutations and stretches on the beach to awaken the natural circadian rhythm, Webb will focus on balance and stability poses, meditation and breathwork.
Sunset Catamaran Sound Bath Cruise, Canapés & Cocktails: Hosted by Grieve and Webb, guests will embark on a private sunset Catamaran Cruise featuring exotic, healthy island cocktails and delicious culinary creations. Grieve will guide a transformative sound healing session, working at a cellular level to recalibrate the mind, body and spirit.
Starlight Sound Healing: Beneath the Tahitian night sky, Grieve will conduct a starlit journey that combines breathwork, guided meditation and sacred sound healing instruments.
Breakthrough Breathwork: Webb will guide guests through a heart-opening meditation to leave them filled with confidence, gratitude and love.
Balancing Chakras: Webb will take guests through self-assessments and practices that will empower their relationship with body, mind and spirit.
Farm-to-Table Culinary Experience: This immersive culinary experience led by the resort's executive chef Eric Desbordes will tie in French and Polynesian influence with a focus on sustainability, using local ingredients honoring rich traditional Polynesian cuisine.
Mat Pilates Fundamentals: One of the most effective full body workouts that can be accomplished in any setting without requiring extensive equipment is Mat Pilates. Grieve will lead a waterfront class, with the soft cushion of the sand acting as a grounding surface, which targets the stretching and strengthening of muscles throughout the body.
Additionally, activities rich in culture and tradition, including monoi oil making, snorkeling among sharks and rays, and stargazing with Tahitian legend telling.
"With an increased focus on wellness and healthy lifestyle, we created this extraordinary retreat as an exclusive offering to our guests," said Romain Chanet, general manager of Four Seasons Resort Bora Bora. "Claire and Koya are true experts who will lead this collection of exciting, interactive, and engaging experiences for all to enjoy."