A visit to Spa Aiyana at Carmel Valley Ranch on California's Central Coast requires a drive through lushly perfumed, purple fields boasting over 7,500 tranquilizing lavender plants. Nestled into a verdant valley within the cypress-dotted Santa Lucia Mountains, the laidback yet luxurious Carmel Valley Ranch attracts beach-goers, hikers, epicureans and organic-living fanatics who come to help harvest lavender, ride resident horses, and sip Pinot Noir straight from the property's vineyard. On-site goats, hens and gardens provide cheese, milk, eggs and produce for the casual-elegant Valley Kitchen Restaurant. The resort's most popular offering, however, is its A to Bee Experience (90 min./$75 for adults; $50 for children), an apiary tour that has some 3,000 guests each year donning bee suits alongside real beekeepers to not only witness the mesmerizing and intricate work of the Ranch's 60,000 honeybees, but also help harvest the honey that has become a hallmark of the Spa Aiyana experience.
PHOTOS: The Dewberry Spa, Charleston, South Carolina
Positioned within treetops overlooking an infinity pool and the pastoral Carmel Valley's 500 forested acres—land once considered sacred to the Esselen and Ohlone tribes—the 10,500-square-foot Spa Aiyana's name translates to "eternal blossom." Here, most treatment rooms have private outdoor terraces,
and the local harvest dictates the services. "The goal is to provide a fully self-sustained treatment menu that uses ingredients grown on-site," says director of spa operations Franziska Haala.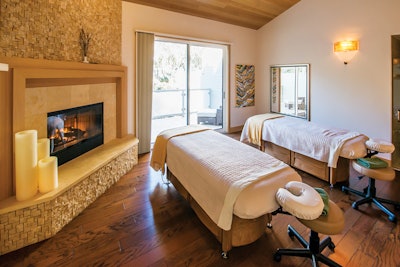 A Full-Circle Operation
Ever since billionaire and Hyatt heir John Pritzker took over Carmel Valley Ranch and introduced the spa in 2010, Aiyana staff has developed new, seasonal spa experiences from the resort's herbal and botanical bounty. Haala, who describes Aiyana's M.O. as "farm to treatment table," sends Valley-harvested lavender, herbs and honey to the Sedona, Arizona-based formulators of Body Bliss, who craft organic backbar and treatment products.
At the summer camp-inspired resort where s'more fixings are nonchalantly placed near the fire pits come sunset, it's hardly surprising that Spa Aiyana's aesthetic is as down to earth as it is luxurious. Those who sign on for pedicures get their feet dipped in honey rather than paraffin. Post-treatment, guests are treated to freshly baked organic lavender cupcakes. As a testament to the slow beauty trend, Haala cut many 50-minute services a few years ago, as she found guests didn't want to sign on for less than 80 or 100 minutes. "Our providers enjoy spending a little more time with their guests too," says Haala.
Currently, the team is working to develop a goat milk-based body treatment, to tie in with the advent of the Ranch's newest herd of animals along with its creamery.
PHOTOS: The New Four Seasons Hotel Downtown NYC
The full-circle nature of resort operations means that staff must attune themselves to the fickle disposition of the natural world. Spa employees help filter raw treatment ingredients from honeycombs, and Haala can tell by look and taste exactly when a given batch of honey was harvested. "In the summer its terroir is really distinct—all about the lavender," she says. "In fall it's more amber, and before spring, super light yellow, depending on the nutrients that were available to the bees during winter." She also keeps an eye on the rain forecast. "We know how much lavender and honey we need to have on hand, and how weather affects everything. That's why we're in constant communication with our grounds superintendent. For instance, all the rain this year was great for the lavender—the fields are super-saturated— but not as good for the bees, so we may need to ration what we have, and supplement our honey-based treatments some."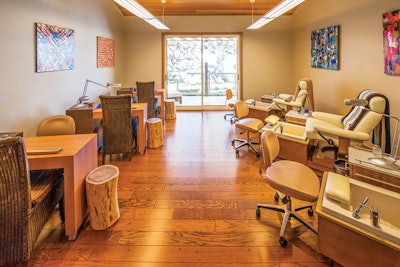 Naturally Sweet Service
Luckily there was enough honey for me to experience Bee Beautiful (80 min./$215), a body treatment that begins with an application of warmed lavender oil, followed by a homegrown calendula and honey scrub. Earlier that day, I had partaken in the A to Bee Experience, along with several other resort guests. Meaning, we'd zipped into white full-body beekeeping suits to help Carmel Valley Ranch beekeepers feed new colonies, inspect hives and remove the chambers where bees store excess honey, called supers, so as to harvest the goods.
PHOTOS: Kamaha'o, a Marilyn Monroe Spa
Climbing onto the treatment table, I had a newfound appreciation for just how critical our planet's most prolific pollinators are to the ecosystem, and for their work ethic—I'd learned that a single bee produces only about a teaspoon of honey during its four- to six-week lifespan. I was still thinking about how a queen becomes a queen—a self-selecting process through which one bee per hive gains "superpowers," as one beekeeper had put it, from a lifetime of consuming nutrient- rich royal jelly rather than honey.
As I settled deeper into this fit-for-a-queen experience, I was still coming down from the adrenaline rush wrought by venturing within the apiary—even though we'd been told that bees have zero biological imperative to employ their self- destructive stingers.
I can imagine few antidotes more effective than being enveloped in lavender and honey, then wrapped in a warm cocoon to experience a pressure point- oriented facial massage, the latter of which involved exfoliating polish made from the queen's royal jelly, followed by a honey aloe purifying mask. By the time my therapist invited me to step into a steam shower to remove the masks (in advance of a finishing full-body honey shea butter massage), life felt, well, about as sweet as the creatures that had made this unique treatment possible.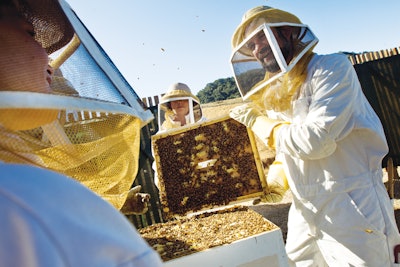 What's the Buzz?
Considering that resort guests are constantly intoxicated on lavender, sensory body treatments are naturally highest in demand. The Lavender Garden Swedish Massage (80 min./$205; 110 min./$275) is a favorite; also popular is Herbal Vitality (110 min./$280), intended to fine-tune clients' respiratory, immune and adrenal systems, thanks to the aromatic herbal oils—rosemary, sweet marjoram and mint—that hot stones vaporize and infuse throughout the treatment room. "We try to revisit our Native American roots and healing traditions," says Haala, noting that guests are increasingly savvy. "They expect organic ingredients, and they want to know where their products are from," she adds.
With presumed help from the on-site 18-hole golf course, almost half of Spa Aiyana's guests are men, and a whopping full 50 percent are local. To this Haala credits the spa membership program, through which a limited number of community guests enjoy a complimentary monthly treatment during non-peak hours, in addition to spa discounts and access to the property's pools, fitness areas and grounds. "We maintain a healthy local email marketing campaign to publicize events like our lavender and honey harvests, and spa specials," she says. For resort guests, her staff labors to provide a singular experience. "People want something they won't get anywhere else," she explains.
Fresh off of savoring Bee Beautiful, my skin newly velvety thanks to the clarifying extracts of bee propolis, I can't argue that any aspect of the experience is rote in the spa world. And as Haala excitedly discusses plans for winter treatment specials, I can see why locals and resort guests alike keep coming back for more. "We're going to do a lot with pomegranate and orange," she enthuses, "and of course, we'll develop an organic gingerbread-man pedicure."
Yes, the bees take some hard-earned time off from October through April, but the hive mind that is Spa Aiyana's resourceful staff keeps the buzz going strong all year long.
–by Katie O'Reilly
The hardworking honeybees of Carmel Valley Ranch sweeten the offerings at Spa Aiyana.