Need to Know
The 15th St. Regis resort opened on its own Maldivian island in November 2016. Located on the unspoiled Dhaalu Atoll, its 22 acres include 77 villas and a stand-alone spa that "floats" above the Indian Ocean. "Iridium Spa is the first overwater spa in the Maldives and has an amazing architectural design," says director of spa and recreation Sudheesh Sudhakaran of the futuristic 20,000-square-foot space. Meaning "of rainbows" in ancient Greek, Iridium Spa features six couples' treatment suites, including two Ayurvedic suites with private steam rooms; separate wet areas with locker facilities; relaxation room with a glass floor for watching fish; spa boutique; covered terrace with a view of the water; and Blue Hole hydrotherapy pool, equipped with high-pressure water jets and massage cannons.
RELATED: A Trip to the Eminence Organic Farm in Hungary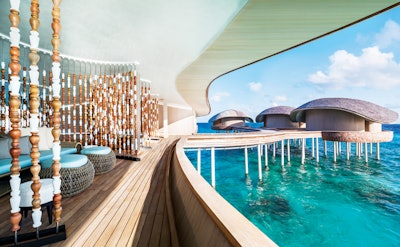 Noteworthy
This is the first Iridium Spa in the Marriott brand to offer intensive Ayurvedic and wellness programs, notes Sudhakaran. "A dedicated Ayurvedic practitioner performs consultations for guests and creates customized spa programs during their stay," explains the spa director. Iridium also has its own yoga master who leads anti-gravity yoga sessions, and is the only spa in the Maldives with a special hydrotherapy saltwater pool.
RELATED: Miraval Life in Balance Spa, Arizona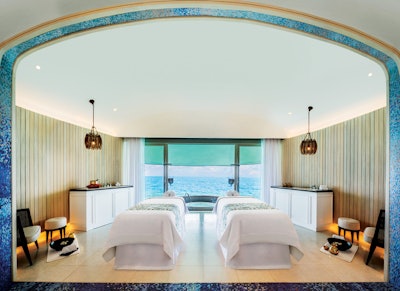 Signature Service
"The Ultimate Maldivian Hafla (180 min./$500) is a locally inspired ritual. 'Hafla' in the Maldivian language (Divehi) means 'ceremony,'" explains Sudhakaran. The treatment begins with a coconut milk foot soak, followed by a hibiscus body exfoliation and a relaxing, oil-scented bath soak overlooking the Indian Ocean. The client then receives a full-body massage using Maldivian sea shells and warm virgin coconut oil, finished with an enzymatic facial.
–by Marina Kay