And yet, among the bustle, life ran steadily, rooted in the 5,000-year-old philosophy of Ayurveda. Translated from Sanskrit to "life science," this holistic system of healing aims to balance the body's five elements—ether, air, fire, earth and water—by prescribing herbs and spices, breathing exercises, meditation, massage and yoga for optimal physical, mental and spiritual health.
Many of India's spas incorporate Ayurvedic wisdom into their services and treatments. To learn more, I traveled the Golden Triangle, a popular tourist trail in the country's arid northwest that traces a route between New Delhi, the capital, and major cities in the imperial state of Rajasthan. It was within historic palaces, converted into posh hotels and luxe spa havens, that I experienced exemplary hospitality.
RELATED: 5 Eco-Friendly Spas Making a Significant Global Impact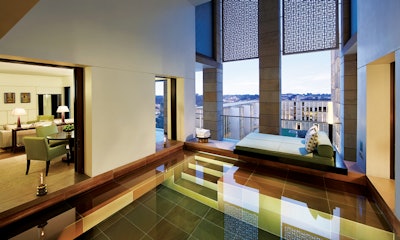 Lodhi Hotel, New Delhi
Lodhi Hotel is located just 15 minutes from the heart of New Delhi, built by the British in the early 1900s and inaugurated as the capital of India in 1931. Pulling up to the elegant porte cochere, I was welcomed by an air of quiet luxury.
Entering through the sleek lobby, I made my way along a wide stone corridor to The Spa at Lodhi, a dimly lit space of vaulted mosaic ceilings and back-lit jaalis (patterned latticed screens). Here spa-goers will find New Delhi's only hammam, which is designed with two temperature-controlled chambers and a marble plinth used during the traditional Posha exfoliation treatment (90 min./$120). Separate men's and women's areas encompass eight large treatment rooms, each with a day bed, Jacuzzi, rain shower and eucalyptus steam room.
I was here to experience the Pizhichil service (60 min./$120), an Ayurvedic offering said to strengthen the immune system. "This therapy is known as the King's Treatment because of its popularity with the Maharajahs of ancient India," says general manager Vikram Aditya Singh, who adds that the combination of massage and heated healing oil application is ideal for addressing joint pain, insomnia and jet lag. Seven of the spa's therapists have trained with a senior Ayurvedic practitioner under a doctor's supervision to perform these Ayurvedic treatments.
RELATED: Implementing Healthy Lifestyle Choices
Pizhichil involves the rhythmic application of a warm balaswagandhadi herbal oil blend containing—among other ingredients— ashwagandha (Indian ginseng), a natural detoxifier thought to off er healing and antiaging properties. The therapist poured the oil over my entire body, then worked it in with a deep massage that relaxed my muscles and relieved my creaky joints.
Ayurvedic doctors typically prescribe a course of Pizhichil treatments over 7 to 21 days—especially to guests with vata (air and ether) imbalances—but after just one session I noticed my glowing skin, improved mood and renewed state of mind. Because Indian healing therapies are gaining the attention of the spa's local and international clientele (a ratio of 40 to 60 percent, respectively), Lodhi is in the process of dedicating a space to Ayurvedic practices. "This area will have the ambience of a traditional, authentic South Indian Ayurvedic treatment room, complete with equipment and massage beds from Kerala," notes Singh.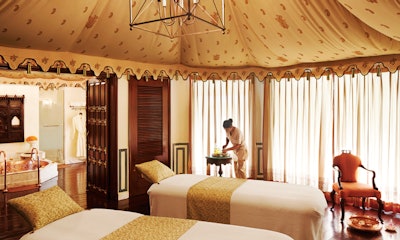 Rambagh Palace, Jaipur
Jaipur, the capital of Rajasthan, is a five-hour bus ride from New Delhi and one of the country's creative hubs. Famous for gemstones, embroidery and block-print textiles, this is where high-end brands from Chanel to Valentino source textiles and decorative wares.
Away from the bazaars stands the delightful Rambagh Palace, a former residence of the Maharajah of Jaipur, adorned with scalloped archways, cascading fountains and sprawling gardens inhabited by strolling peacocks. Since opening in 2006, the spa has proved particularly popular with hotel guests, the majority of whom hail from India, the U.S. and the U.K. From the women's changing area—fitted with a steam room, sauna and experience shower—I was met by my therapist and led to one of three spa tents.
Intrigued by the increasingly popular practice of cupping, I chose the Ventoz Indian Cupping service (90 min./$125). "Per Ayurveda, cupping helps to improve blood circulation and remove toxins from the body, which are stored in the form of knots," explains spa manager Rohit Barotra. As I lay facedown on the massage table, the therapist dragged a heated glass over my tight back and shoulders, creating a vacuum that sucked up the skin and unleashed tension. Paired with a deep muscle massage, the treatment provided an overall feeling of lightness.
RELATED: Seasonal Spa Offerings in Time for Warmer Weather
Afterward, I was faced with a difficult decision: Should I linger on the day bed and enjoy an early dinner of tofu and raw papaya salad from the hotel restaurant's healthy menu, or while away the rest of the afternoon poolside with a cup of warm detoxifying tulsi (holy basil) tea? Reveling in my relaxed state, I chose the latter.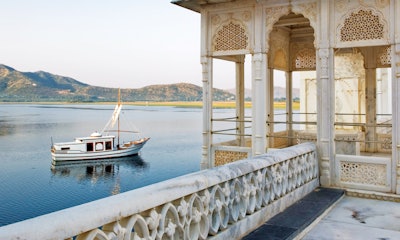 Taj Lake Palace, Udaipur
Around 240 miles from Jaipur is Udaipur, nicknamed the Venice of the East. On the city's western fringes, Taj Lake Palace—an 18th-century palace turned luxury hotel—appears to fl oat on Lake Pichola.
Added in 2002 and catering only to resident guests, the 1,180-square-foot spa incorporates three lavishly decorated treatment rooms (including one for couples' services) and a wet area with panoramic lake views. Signature treatments and Indian therapies employ exotic, locally sourced herbs and spices, as well as custom formulated aromatherapy oils supplied by Australian brand Subtle Energies. Sustainability is a key factor at the facility: "We use chemical-free, hand-combed organic cotton linens; even the bathrobes are herb-dyed," says spa manager Sunil Raj Kaningattu.
Intoxicated as I was by the smell of sandalwood permeating the property, my real treat was yet to come. I'd selected one of the spa's most regal offerings, which takes place on a boat anchored by the hotel. Onboard options include the Romantic Spa Indulgence (240 min./$750 per couple; $450 single), a four-hour spa package that includes a restorative botanical Jivaniya treatment and a picnic.
Accompanied by Kaningattu, I was taken by water taxi from the hotel's jetty to the spa boat. In the quaint wood-paneled cabin that serves as a treatment room, my Indian therapist performed a welcoming foot ritual before exfoliating my body with an invigorating, allover, masala-like scrub. Left on under layers of towels, the paste—a mix of clove, nutmeg, cinnamon, cardamom, dry ginger, black pepper, rice powder and rose water—simulated a heat wrap. Following a sleep-inducing head massage with nourishing sesame, curry leaf and neem oils, then a shower, I surrendered to a full body massage that employed stress relieving oils, including ashwagandha and tulsi leaf. The quaint cabin setting lent a cocoon-like feeling throughout the treatment.
Suffice to say, I felt deeply relaxed, and took to the boat deck to enjoy masala chai and Indian shortbread with a view of the Aravallis mountains. According to Kaningattu, many guests choose to relax in this spot with a glass of wine while enjoying the sunset.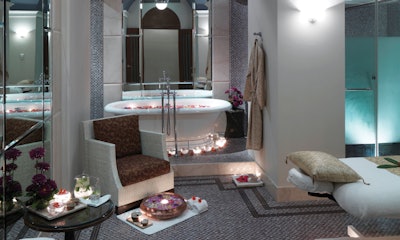 Umaid Bhawan Palace, Jodhpur
Standing on the top of Chittar Hill in Jodhpur, famous for its blue-hued buildings, Umaid Bhawan Palace boasts a storied past. Built in 1943, this royal residence functions not only as the Maharajah's private home, but also as one of the world's most palatial hotels, having hosted everyone from Prince Charles to Liz Hurley, who married Arun Nayar in the beautifully manicured gardens.
Located under the hotel's 148-foot-high cupola—the tallest in India after the Taj Mahal's—the subterranean Jiva Grande Spa features three treatment rooms, a couples' suite and an Ayurveda room. The latter is equipped for services such as Pichu, which uses an herbal poultice with hot medicated oils; Mukhalepa, an herbal facial; and Abhyanga, a highly popular hot oil body massage. Spa manager Savita Yadav, who holds a doctorate in Ayurveda, explains that here, it's common practice for therapists to seek blessings from Lord Dhanvantari, the god of Ayurveda, before working on clients. Furthermore, "the treatment table, or dhroni, is made of Neem wood, which has medicinal properties that are healing to the guest," she says. "Many of the vessels we use to hold Ayurvedic oils are made of brass or copper, which have potent anti-inflammatory and antimicrobial properties."
The spa menu also lists meditation and yoga, key tenets of Ayurveda. Needing to unwind, I booked the signature Samattva (120 min./$37), a balancing treatment that takes place in a yoga room adjoining the gym. After consulting with my yoga instructor, I was led through a series of breathing exercises, including alternate nostril breathing and customized yoga postures, followed by a round of flame-gazing meditation, gemstone visualization, intention setting and yoga nidra (yogic sleep). According to Yadav, this so-called conscious deep sleep "amplifies a relaxed state of being. It helps our guests attain poise and equilibrium in mind, body and spirit, which they can incorporate into their own lives." And she's right. The experience loosened me up; I felt clearer and more centered. I'm happy to report that back home in busy Los Angeles, I've been meditating regularly and feeling all the better for it.
–by Marina Kay
India captivated my senses before it took over my mind. Noisy, crowded and chaotic, the subcontinent overwhelmed with its intoxicating aromas, zigzagging rickshaws and browsing cows, all amid a riot of color— from bright orange marigolds to a dazzling array of saris, glittering under the blazing sun.