For days I toured this 800-year-old metropolis, climbing the Great Wall in 80% humidity, peeking at giant pandas at the zoo and elbowing my way through the blazing hot Forbidden City. After about 72 hours, I was in serious need of a refuge. I yearned to find a place that echoed Beijing of the past, a sanctuary with silk-covered beds and bamboo walls, carved wooden screens and glowing lanterns, a fragrant mist of rare tea floating through the air. I needed a day at a classic Chinese spa.
Beijing is filled with many world-class luxury destinations, but thanks to a friend's recommendation, I already knew which one to turn to: the Spa at the Four Seasons, in the city's Chaoyang District. "You won't believe the hush and the beauty you'll find there," she said. "The spa even has songbirds in the lobby."
I grabbed a taxi to the hotel and once there, I took the swift, silent elevators six flights up to the spa. When the doors opened, I knew I had entered a gracious China found only in dreams.
There's an old Chinese proverb that reads, "The peace you seek is in the inner courtyard," a reference to the lovely tiled-roof hutong or courtyard houses that once lined the city streets. That's what you'll find as you make your way to the spa: A hushed courtyard within the hotel that has a airy tea house at its center, silver light streaming down from the atrium, a pond inhabited by gold koi, and a wall of sculpted metal butterflies soaring 20 floors to the top of the building. The only sounds come from the trickle of a stone fountain and the Chinese flute music softly emanating from the speakers. I wanted to slip into a silk robe, put on Madame Butterfly and move in immediately.
But first there would be tea—an essential element of the spa's signature treatments. Sitting down in the tea house in front of a cup of steaming hot jasmine, I perused the spa menu. It's clear that the Four Seasons understands the power of legacy. The signature treatments, including an Oriental Ritual (120 min./about $300)—which features a body scrub of crushed rice and a warm-oil Oriental massage—and the Emperor's Treatment (150 min./$440)—a gold body scrub and hot stone massage that comes with a silk robe to take home—are invitations to pamper oneself and to connect more deeply with Chinese culture through centuries-old rituals. "When people come to Beijing, they want to try something quintessentially Chinese," says spa director Cassandra Forrest. "We created our signature treatments to offer an insight into the country's time-honored traditions and beauty rituals."
To make that a reality, Forrest researched Chinese natural healing techniques, drawing upon thousands of years of Traditional Chinese Medicine (TCM) wisdom. She also found inspiration in the richness of the country's history and folklore. For example, when she heard of a beloved folktale about two Chinese lovers meeting in the middle of the night, she spun an elaborate couple's spa treatment from it: Midnight Magic.
This experience begins when a town car picks up the pair from their home or hotel and whisks them to the Four Seasons late at night. The clients change into heavy silk robes and relax during a private tea ceremony in the spa courtyard. At midnight, the duo takes a solo dip in the hotel's pool, surrounded by candles and flowers, and is then led to a private pool cabana where they receive an Aroma Infused Massage and Midnight Glow Facial in tandem. The 150-minute treatment ($1,530) includes champagne and decadent treats, plus time to lounge afterward.
"It's a way for people who have gotten caught up in the complications of life to harmonize their spirits again," says Forrest, who adds that one couple, on the brink of separation, splurged on an evening of Midnight Magic and ended up deciding to work things out. "The woman told me later, 'It really mattered that he made such an effort for me,'" recalls the spa director. For Forrest this was affirmation that tapping into China's evocative folklore and inviting guests to imagine themselves in such romantic, age-old narratives can be as restorative as the physical treatment itself.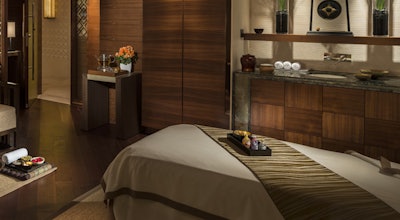 For my own visit, I chose another signature pamper: The Power of Tea, a two-hour ritual featuring a green tea scrub and a green tea oil massage. First, my therapist led me through the hushed spa and into the VIP suite, where massage beds dressed in white silk bordered with wine-colored silk awaited. Soft light glowed through rice paper screens.
My therapist sat me on a wooden bench strewn with silk pillows patterned with butterflies. She poured warm water into a large wooden foot bath and sprinkled flowers on top. I dipped my weary peds inside and she rubbed my soles and ankles with a fragrant coconut scrub. Next, I lay on the cloud-like massage bed, ready for the three-layer treatment—an earthy green tea scrub, a bamboo and aloe vera body mask, and a green tea oil massage. As the dreamy melodies of a Chinese flute floated through the room, I willed myself to stay awake— I wanted to enjoy every moment of this voyage into old China. But as my therapist pressed deep into my scalp—acupressure for my head—I succumbed and slipped into slumber.
When the massage ended, I rose from the bed to find a giant bath, frothy with foam, layered with orchid petals and lit from within. I sank in, poured myself a cup of hot ginger tea, closed my eyes and savored this rare moment.
Although visitors to Beijing certainly search out the Four Seasons Spa for a retreat into old China like I had, local denizens often come for the customized pampering. As is expected in a world-class destination spa, therapists assess each guest's skincare and wellness needs and suggest treatments. Beyond that, the spa experts have the flexibility to customize different products and techniques, as well as recommend TCM therapies from in-house expert Dr. Lan Jirui.
I, for one, clearly benefited from this personalized approach to luxury. As I sank deeper into the tub and gazed out at the beauty of my treatment room, I could already feel my Forbidden City sunburn and my Great Wall of China vertigo receding into the memory files and out of my new reality—it's the spa as ancient palace, and in this evocative space some 60 feet above the mean streets of 21st-century Beijing, I felt every bit the modern day empress.
– by Alison Singh Gee
It's safe to say that most people don't travel to Beijing expecting to relax. As the second biggest city of the world's most populous country, Beijing has 22 million citizens, five million cars and nine million bicycles crowding its streets, not to mention a seemingly permanent puff of tea-colored haze hanging above its ancient temples and its barely-built-yesterday statement skyscrapers. It's even safer to say that most people don't travel to Beijing during its 103-degree Fahrenheit summers to chill out. And yet I did just that.