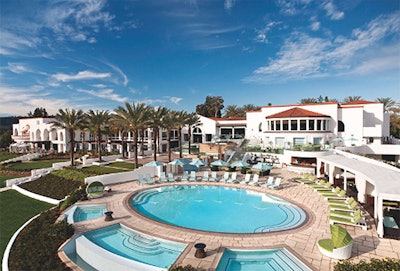 A beloved spa resort continues to charm after half a century.
Only a certain kind of wonderland could justify making the long drive down from Los Angeles to Carlsbad, California, on a Friday evening. One that immediately unhunches the shoulders, unclenches the jaw and erases all memory of freeway gridlock. Thankfully, Omni La Costa Resort & Spa delivers on all counts.
Arriving feels like stepping into a secret hideaway, but the sprawling property is actually a well-known fixture with a storied history that has attracted tens of thousands of repeat guests over its 51 years in existence.
Set in a picturesque valley 30 miles north of San Diego, the 400-acre site was discovered by real estate developer (and future TV executive) Merv Adelson in 1963. Even before it opened, the Spanish Colonial-style retreat was garnering attention from international media, who billed it as "a glimmer with luxury." The $3 million spa was, at the time, said to be the largest and best equipped in the world, and the $1.5 million golf course soon began hosting pro tournaments and golfing legends. The resort also gained a reputation as a playground for the rich and famous: Everyone from Richard Nixon to Frank Sinatra has sought refuge from the public eye here.
In 2003, La Costa underwent a $140 million restoration, which added a ballroom, further rooms and villas, plus 15,000 square feet of spa gardens and courtyards. Around the same time, The Chopra Center which offers mind-body classes, programs and workshops-_opened on site. A decade later, the Dallas-based Omni group purchased the premises.
Today, La Costa's vast offerings also encompass a state-of-the-art gym, plus several cafés, restaurants and boutiques. But as impressive as the facilities are, they're not the only things that have lured A-listers and locals alike: It's also the glorious natural environment—bubbling fountains, tropical flowers, ubiquitous hummingbirds, and even baby rabbits soaking up the late afternoon sun. All of this contributes to an intangible, magical feel that seduces guests the moment they arrive.
Boasting eight swimming pools (including one equipped with waterslides) and a Kidtopia Kids Club that caters to younger guests, La Costa really comes into its own for families. But it also serves as a romantic hideaway for couples and a haven for wellness seekers—and that's why I was here.
Set back from a main path across from The Chopra Center, the 43,000-square-foot spa is the main jewel in the resort's crown. It recently welcomed a new spa director, Leslie Johnson, who has held numerous high profile positions in the industry, including program director for Miraval Arizona Resort & Spa and opening director for the Lodge at Woodloch.
After I check in—a process that takes place in the spa's gorgeous, inviting retail area—I begin to explore the extensive indoor and outdoor facilities. In the courtyard, girlfriends are relaxing in the small pool, while another guest treads the reflexology path. It's busy but serene, the silence punctuated by soft chatter and the occasional pop of a Champagne cork at the spa café, which also serves salads, sandwiches and smoothies. When I later describe the scene to Johnson, she knows exactly what I'm talking about. "You experience an immediate sense of calm; when I give people tours,they walk into the courtyard and I hear a loud, deep breath… it just happens," she says.
As I pluck a sprig of mint from the garden to sprinkle into my chilled water, I'm summoned for my service. Christine, the experienced therapist who performs my Éminence Monoi Age Corrective Facial, is so knowledgeable about skin and bodycare brands that I almost wish I'd brought a pen and paper with me to make notes. Ultimately, however, I sink into a state of deep relaxation as she works her magic, customizing all the way. Christine exudes an excitement for her job—a quality that's key for the role, according to Johnson. "I look for candidates who embody passion and pride in their work," she explains. "They must have a hospitable nature too: We always want to make our guest feel comfortable, in every moment." Positivity is another crucial credential. "When a person is positive it radiates off them; I can sense that they love to engage with others and have a desire to be a part of the big picture," continues Johnson. "My goal operationally is to ease resistance so we're all moving and flowing together. It reflects in the guest experience—when I say big picture, that's what I'm referencing."
Here, staffers aren't merely employees, or even team members—they're "internal guests." "Training is quite a process," says Johnson. "It includes an in-depth introduction not only to the property itself but to Omni culture; when I bring in therapists, front desk and locker room attendants, we give them an opportunity to understand the overall experience from the guest's perspective. They learn about products, treatments and operations." This strategy is clearly working: Johnson cites internal guests who've been with La Costa for 20, 30, even 40 years. Loyalty works both ways: Although overnight guests make up the lion's share—around 75%—of spa guests, locals flock here too, especially to celebrate special occasions on the lush private patios.
A new spa menu was unveiled last December, and the spa veteran has some additional tricks up her sleeve, such as the introduction of monthly, rather than seasonal, specials. "If a guest doesn't like that particular season they're out of luck until the next one," she reasons. The resort's "incredible and spontaneous" marketing team also plays a role. Other endeavors include the use of a texting service: "Maybe it's a Monday or Tuesday morning and we're throwing in a complimentary add-on; it's fun to have the text sent out and watch the response," says Johnson.
But she also knows what not to change. Perhaps surprisingly, she never starts a new job with an agenda, but rather looks to bolster elements that already work. "This spa has such heart to it, so I'm really looking at that and trying to create forward movement that embodies it," says Johnson. "That's what I look to do—to enhance and focus on the positive things happening."
Given the resort's bustling spa and weekly changing activity menu, its key strengths are clearly wellness and fitness. "My passion is overseeing lifestyle programming.
I thrive on creating environments that allow people to get to know themselves in different ways," explains Johnson, adding that she's working on "fun, different" options, as well as more typical fare such as themed morning wellness packages based around yoga, aqua and the like. "I'll continue to enhance the market segment that comes to the resort for wellness, because I believe this property has so much wonder and wonderfulness to it," she concludes. In other words, that intangible La Costa charm.
– By Lesley McCave