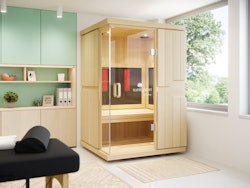 Sunlighten mPulse Smart Sauna offers state-of-the-art features like smart heaters, pre-set wellness programs, built-in streaming and in-sauna entertainment options, integrated red light/near-infrared LEDs, sound vibration therapy and customizable technology to track health goals, manage the sauna remotely, access wellness content and foster community through the brand's new mobile app.
At the core of the mPulse Smart Sauna lies its internal technology, setting it apart from any other sauna on the market. Through extensive research and data analysis, this technological innovation utilizes precise wavelengths to support unique health goals.
"Our new Smart Sauna takes the guesswork out of managing your wellness routine by supporting your health goals and guiding you with the use of intelligent technology and gathered data," says Sunlighten's CEO and Co-founder Aaron Zack. "The mPulse Smart Sauna is a first of its kind in the industry with patented heaters that use infrared heat and light therapy simultaneously to optimize the way your body absorbs infrared so your body receives maximum health benefits. It supports your goals by tracking your patterns. All you have to think about is getting in and enjoying it. It will tell you which program is best for the health benefit you want and will even set schedule reminders to help you stay on track."
Main Features:
Mobile connectivity through Sunlighten's new app will allow users to manage sauna usage, gather valuable data, and receive personalized recommendations tailored to their well-being while connecting them with an active community of like-minded individuals to inspire and support each other.
In-sauna entertainment via a built-in tablet that allows users to stream music and movies, or enjoy guided meditation journeys and learn new breathing exercises.
Data-driven programming created from nearly 40 key studies of how wavelengths affect the body to help users achieve specific health goals.
Technology-driven heaters using research data to determine optimal dosage and combinations of red/near (NIR), mid (MID) and far (FIR) infrared wavelengths.
3-in-1 heater technology innovated to provide separate FIR, MIR, RED/NIR optimized to the precise and most effective wavelengths (only Sunlighten's proprietary heater technology can exclusively manage the complicated science behind wavelength frequency and emissivity).
Sunlighten's signature SoloCarbon technology that makes the FIR wavelengths 95-99% emissive.