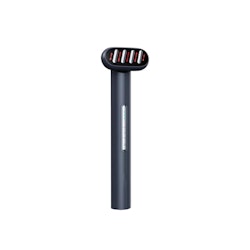 ZAQ Zayn is a 5-in-1 skin care device offering a comprehensive and personalized approach to achieving radiant and healthy skin. It is suitable for all skin types and ages.
The device features multiple light therapies, vibration therapy and more to stimulate collagen, smooth complexion and promote a more youthful appearance. Its massage head can be rotated 90 degrees to provide flexibility and easy access to every angle of the face, with a 15-degree tilt design to ensure optimal comfort. 
Main Features:
Red light therapy (630nm): Stimulates collagen production, reduces the appearance of fine lines and wrinkles, and enhances overall skin rejuvenation.
Blue light therapy (465nm): Targets acne-causing bacteria, helps clear breakouts, and reduces inflammation for a smoother complexion.
Microcurrent therapy with three-step adjustment (adjustable intensity levels: 126MA, 210MA, and 280MA): Enhances muscle tone, improves circulation, and promotes a firmer and more youthful appearance.
Optional vibration therapy 12,000 times per minute with adjustable frequency: Maximizes the effectiveness of skincare products, stimulates blood circulation, and provides a relaxing massage for improved skin health.
Magnetic heat therapy with 38-45°C temperature control: Opens up pores, allowing for deep cleansing, improved product absorption, and a more revitalized complexion.