Digital Detox: Spa pros offer tips for tackling face and body concerns caused by too much tech.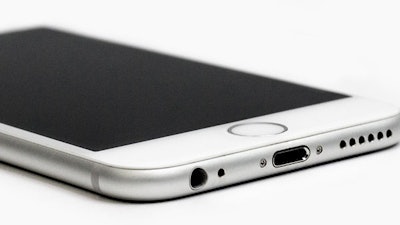 What issues are spa-goers experiencing as a result of excessive screen time?
Alicia Pickett, head esthetician, Sensibilities Day Spa in Asheville, North Carolina: High-energy visible light (HEV), otherwise known as blue light, induces an oxidative stress reaction resulting from an imbalance of free radicals and antioxidants. This leads to premature aging because of the breakdown of collagen and elastin fibers in the skin tissue, plus inflammatory responses like hyperpigmentation and redness can emerge due to the production of free radicals. Staring at a screen for prolonged periods of time strains the eyes, causing mental fatigue that can lead to postural collapse (forward head posture)—aka 'tech neck.' Hunching over phones is also leading to more cases of sagging skin and drooping jowls, and blue light may even adversely affect sleep patterns, eyesight and memory.
Tina Santana, spa director, BABOR Signature Spa at The Dominick Hotel in New York City: Sweat and bacteria can build up on the face or arms while using smartphones or watches, causing breakouts. Additionally, blue light emitted by phones, tablets and computers is similar to UV rays and can increase the risk of pigmentation and premature wrinkles (which may also result from squinting at the screen too long).
Jason Paluch, director of spa & wellness, The Spa at Mandarin Oriental in Boston: We see guests suffering from increased neck and upper back strain, wrist injuries and many other effects. Extended use of technology is damaging sleep patterns, social interactions and attention spans—not to mention triggering a variety of skin issues, including photoaging and loss of elasticity.
How do you address these digital dilemmas?
Nicole Held, licensed esthetician and director of marketing and events, Facialworks in Newport Beach, California: Our spa's products contain proprietary CleanSea Complex, formulated to protect skin from blue light damage with three powerhouse antioxidants: lava water, Tahitian black pearl and Pepha-Age from green microalgae. Every layered step of the regimen defends against blue light. It's like having blue light glasses for your skin, and we've even branded our own blue light glasses that are sold in spa and online!
Santana: Our Renew & Restore service (50 min./$225) is an age-preventing experience featuring invigorating scents and deep exfoliation using ultra-fine cranberry seeds and therapeutic oils. (Cranberries are also a great source of antioxidants, which help protect skin from environmental stress.) A nutrient-rich body wrap fortified with rare plant stem cells nourishes the skin, leaving it soft, supple and intensely hydrated.
Paluch: We offer a Digital Wellness Escape (80 min./$220-$250) to address key concerns resulting from technology use. The massage focuses on digitally strained areas such as the shoulders, neck, head and eyes, and one of my favorite aspects of this treatment is the use of shungite stones to help clear the body of electromagnetic radiation. The experience also incorporates black tourmaline gemstones, which are extremely energizing and help revitalize the skin. Plus, we have every guest complete a digital wellness quiz to help them become more mindful of their relationship with technology.
Pickett: Clients love the Custom Clarity Enzyme Peel (75 min./$125), which focuses on photoaging concerns. Yam and pumpkin enzymes deliver a mighty dose of vitamin A to jumpstart collagen and elastin production, while adaptogenic snow mushroom, reishi and birch water restore the moisture barrier and minimize inflammation.
What additional steps will keep tech from taking a toll?
Paluch: It's important to limit the use of digital devices as much as possible. Even if someone's job requires a lot of screen time, it's still a good idea to schedule breaks. Don't allow phones or tablets at the dinner table, and turn off notifications during relaxation time or family activities. Avoid charging electronics in the bedroom and don't use the phone as an alarm clock, as this will only encourage more use. Plus, the ambient light can wreak havoc on sleep patterns. (We sell phone sleeping bags to address this.) An evening digital disconnection routine is also helpful—perhaps it's giving yourself a facial, taking a bath with fragrant oils, or sitting down with a cup of tea and a book.
Pickett: Serums containing antioxidant-rich ferulic acid and vitamins A, C and E are the best ways to defend skin from free radicals. I suggest applying a few drops of Éminence Citrus & Kale Potent C+E Serum, followed by a layer of the brand's Rosehip Triple C+E Firming Oil to help boost collagen formation and even skin tone. Additionally, Éminence Lilikoi Light Defense Face Primer SPF 23 is a soothing mineral-based protectant that calms inflammation and minimizes the visible effects of blue light pollution. I suggest wearing amber-tinted glasses at night to block HEV light and ensure the brain doesn't get the signal that it's supposed to stay awake. Limit screen time, adjust blue light levels on devices—especially at night—and get plenty of sleep so skin can repair and regenerate. A balanced diet with lots of antioxidants and fatty acid-rich foods will also help minimize and protect against inflammation.
—Alexa Joy Sherman
This story first appeared in the January 2020 issue of DAYSPA Magazine. To receive the magazine, subscribe here.