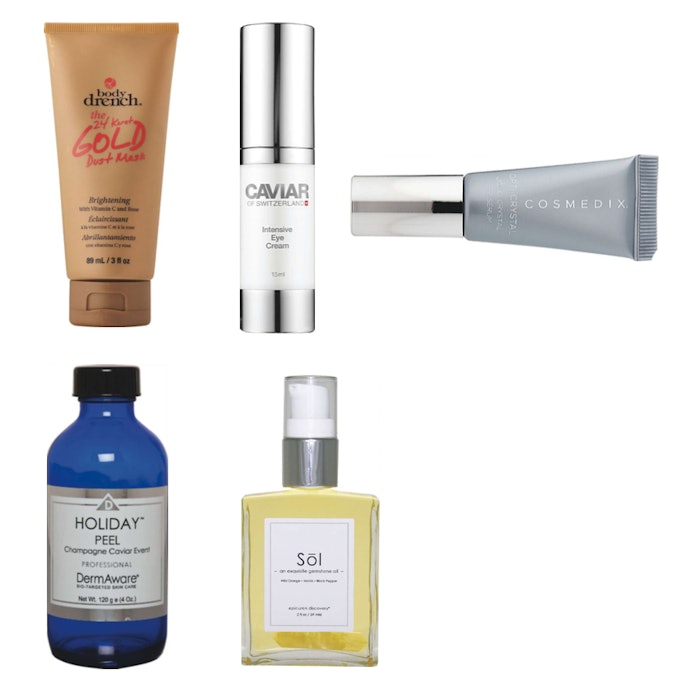 Lavish ingredients like diamond, gold and caviar offer a wealth of skin benefits— and certainly help add a high-end quality to treatments. Sample this selection of luxe formulas so you can leave clients feeling like a million bucks.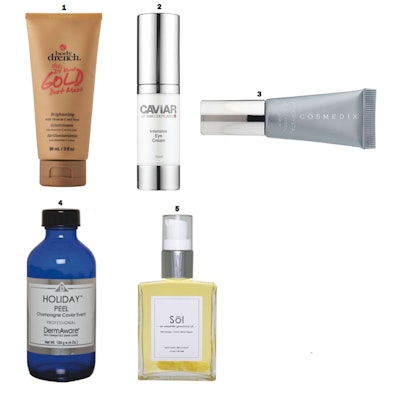 1) Body Drench The 24 Karat Gold Dust Mask
A peel-off mask infused with vitamin C, wild rose and gold to gently purify the complexion.
2) Caviar of Switzerland Intensive Eye Cream
Caviar extract helps diminish dark circles and smooth fine lines.
"Dark circles begone, thanks to this energizing undereye refresher!" – Jasmine Brown Associate Editor
RELATED: Nature's Bounty: Citrus-Infused Skin Care
3) Cosmedix Opti Crystal Eye Serum
Formulated with liquid crystal technology and coconut to smooth crow's feet.
4) DermAware Holiday Peel
A professional peel with antioxidant champagne and smoothing caviar for radiant skin.
5) Epicuren Discovery Sol Exquisite Gemstone Oil
This lightweight, rejuvenating body hydrator is infused with a citrine gemstone and essential oils.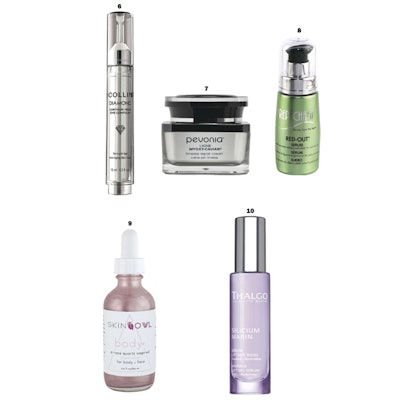 6) G.M. Collin Diamond Eye Contour
A silky elixir that illuminates the delicate eye area, thanks to diamond powder and filling spheres.
7) Pevonia Myoxy-Caviar Timeless Repair Cream
Caviar and neuropeptides enhance this age-defying moisturizer for firmer, brighter skin.
RELATED: How CBD Fits Into Spa Services
8) Repêchage Red-Out Serum
Reduces redness with a combination of laminaria digitata seaweed and soothing silver.
"This serum's silver and seaweed pack a one-two punch against facial redness!" – Megan Adams Digital Campaign Manager
9) Skin Owl Body+ Rose Quartz
Rose quartz blends with aloe and plant oils to soften imperfections and impart a radiant glow.
"I can't get enough of this shimmery, skin-softening illuminator!" – Laura Waldon Executive Editor
10) Thalgo Silicium Wrinkle Lifting Serum
Plumps and firms with diamond powder, sunflower seed oil and citric acid.
This story first appeared in the May 2019 issue of DAYSPA Magazine. To receive the magazine, click here to subscribe.
[Images: Courtesy of manufacturers]