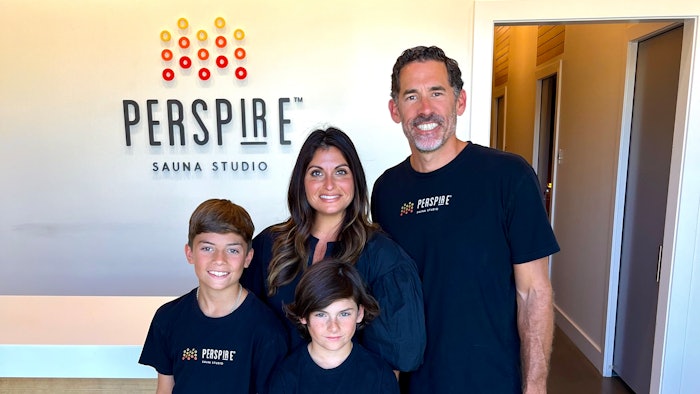 Photo courtesy of the Whalen family.
Perspire Sauna Studio is preparing to expand their market presence in their Idaho and Michigan markets. This announcement comes after the most recent finalization of signed agreements for two new location in Boise and Meridian, along with a new location set to open in Rochester in January of 2023. 
The growth in Michigan stems from the desire of Rami and Stephanie Ubaydi, franchise owners in Detroit, to make the brand and its wellness-centric services available to residents throughout the region.
Related: Perspire Sauna Studio HIts Milestone with 100 Franchise Agreements
"The Detroit area is among the fastest-growing markets in the Midwest, with a unique demographic of personal wellness-enthusiast that makes it the perfect home for Perspire to set up shop," said Stephanie Ubaydi. "Our focus is entirely placed on this first studio location. Though, we're hopeful in being able to introduce additional sites to the region in the not-so-distant future once our first venue has had time to aggregate."
The most recent deals in Idaho stem from the success of the first studio in Eagle, which opened in November of 2021, under the ownership of Brian and Nina Whalen.
"From an outsider's perspective, Idaho might not come across as a state that's primed for investment in the wellness space," said Brian Whalen. "In actuality, the Treasure Valley culture views outdoor activities and reconnecting with the outside world to be crucial to the fabric of what makes the area so unique. Which has helped our sauna studios tremendously in establishing a foothold with locals looking to supplement their already active lifestyles."
The rapid growth of the studio franchises in both states have been indicative of more families and individuals choosing the brand for their wellness needs. 
Perspire Sauna Studio is currently seeking single-unit and multi-unit franchisees interested in new career opportunities or those looking to diversify their current portfolios. Combined with the 49 franchises awarded year to date, Perspire has awarded 103 franchise agreements with 27 studios currently open.