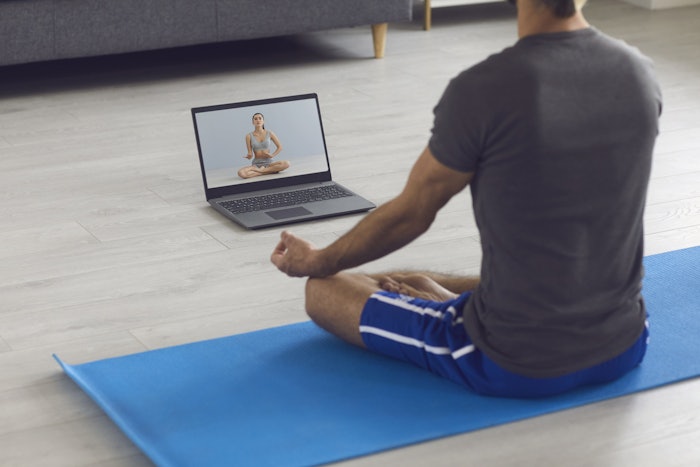 The Esalen Institute and Radiance Sutras have partnered to offer an online meditation certification that will allow wellness pros to conduct remote sessions, among other benefits. Esalen Institute, which has taught more than 50,000 people how to meditate since 1962, created this online teacher training course in response to the demand for wellness resources amidst the pandemic.
The certification, Radiance Sutras Meditation Teacher Training, is a 20-week, 200-hour interactive online course designed and led by Esalen faculty. The course runs January 29, 2021, through June 19, 2021, and is taught by meditation experts Lorin Roche, PhD, and Camille Maurine.
Related: Yoga and Meditation Reduce Chronic Pain
The course consists of live Zoom classes, practice sessions with other students in small groups, live office hours on Zoom, prerecorded audio meditations and three textbooks: Meditation Made Easy, The Radiance Sutras and Meditation Secrets for Women. Upon course completion, students will receive certification through the Radiance Sutras School of Meditation and, if desired, with Yoga Alliance as a 200-hour authorized meditation teacher. 
Participants will learn how to:  
Customize meditation to suit an individual or group.
Adapt their meditation practice to meet particular life circumstances.
Navigate intense emotions, sensations and other challenges.
Cooperate with internal, instinctive wisdom.
Find deeper balance, healing and renewal.
Offer the gift of meditation to others.
Guide students into meditative states, whether it is a short one-minute rest or a full 20-minute session.
Receive personalized attention from instructors and immediate answers from private discussion groups.
Related: Mental Wellness is a $121 Billion Market
"Meditation techniques are actually simple: slight changes in the way you look at things, tiny shifts in how you are breathing and effortless changes in the way you are paying attention to the flow of sensation. Anyone can practice meditation, and it has been shown to be an effective way of evoking profound states of rest and relaxation," says Roche.