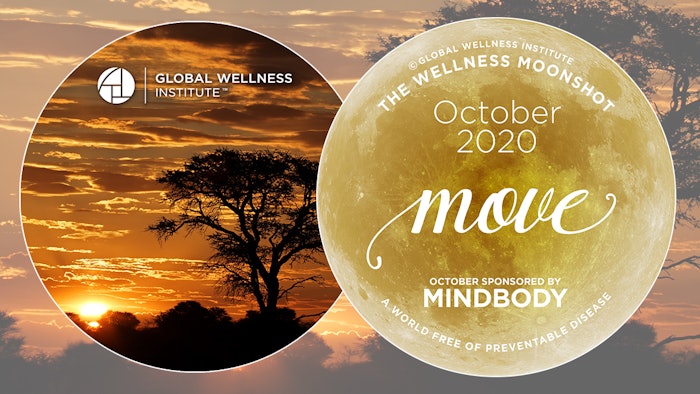 Courtesy of the Global Wellness Institute
On October 2, 2020, DaySpa joined the Global Wellness Institute (GWI) and wellness leaders around the world via Zoom for The Wellness Moonshot: A World Free of Preventable Disease October Full Moon Celebration. This month's wellness theme was "Move."
The group began by discussing the importance of movement for well-being. But this year, the GWI's approach to the theme is a little different. Rather than focusing on physical movement (which is certainly important), this month the theme is more about how our daily intentions move us through the day, in terms of the choices we make. 
Next, the group enjoyed a qi gong breathwork exercise led by Randi-Mae Stanford-Leibold, an author, mindfulness facilitator, counselor and workplace wellness consultant. As we concentrated on our breathing, guided by Stanford-Leibold, we considered how "our bodies, minds and actions are always in motion," and she provided us with a mantra for the exercise and the rest of the month: "My body is a divine vessel that moves with love, peace and tranquility."
Next, Nancy Davis, chief creative officer of the Global Wellness Summit (GWS), introduced some of the Moonshot's valued partners, including Josh Todd of Mindbody, as well as representatives from Israel, India and China, where Teresa Dai, senior manager at Tianren Culture is focused on promoting healthy lifestyles through exercise and proper diet. 
Renee Moorefield, CEO of Wisdom Works and curator of monthly Wellness Moonshot content, then discussed moving in terms of intention. "Every action we take channels an intention, and it's up to us to be more aware of what that's channeling," she said, adding that people typically make on of the following three moves when they're in a state of stress:
Move toward people: people pleasing, acquiescing or buttering people up, in which the deeper intention is trying to comply
Move against people: righteousness and using one's will to force behavior, in which the deeper intention is to control 
Move away from people: acting critical, withdrawing or retreating from a situation, in which the deeper intention is to protect ourselves
Moorefield pointed out that these are all self-protection strategies, and can even help us to an extent. "If you want to create a culture that supports others and comes from a place of well-being, you need to know what your intentions are," she explained. "Ask yourself where you want to move from—compassion and in support of human dignity—and be more conscious of that."
The group split into breakout rooms to share what Move meant to us on our wellness journeys, and we rejoined to share our conversations with the rest of the group. We discussed the importance of pausing and taking a breath before making choices, rather than moving through the day by making knee-jerk reactions. 
Finally, we celebrated an individual's work to further a world free of preventable disease. This month's winner is Ranganath Subramoney, founder and yogi at RangaLAAF, where he teaches innovative meditation techniques. He talked about how to be aware that every move you choose to make can be a benefit to everyone. "There is no me without we; there is no us without you," he said. "If you get yourself in order, you're in a better place to help your community. Whatever you do, you're doing it for yourself, those close to you and your wider community."
Susie Ellis, GWI chairman and CEO, wrapped up with her intention: "Together, we can do more than we can individually; my goal is that we get 1,000 people on this call—that's my intention. Wellness connects us all."
She finished with a quote from David Whyte's "The Journey": 
Sometimes everything

has to be

inscribed across

the heavens so you can find

the one line

already written

inside you.
The celebration concluded with some freeform dance with by Lisa Fasullo of the Center for Transformative Movement. To celebrate the harvest moon, she had the group enjoy twisting, which has energizing—and fun—wellness benefits.