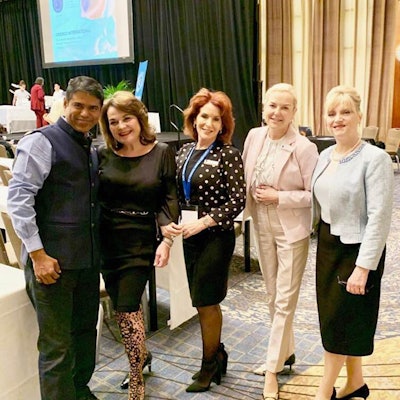 The 67th CIDESCO World Congress, hosted by CIDESCO USA from September 19 to 23, 2019, in Chicago, brought together more than 300 spa and beauty professionals from all corners of the world under the theme "The Architecture of Beauty."
At the annual General Assembly, three new appointments were made to the Board:
President: Sandy Fuhr (South Africa) will take over for Anna-Cari Gund (Sweden), who has held the post for the past seven years
Sales and marketing director: Laura Grazioli (Italy)
Executive director: Gerard Gordon (Switzerland)
Fuhr, founder of the Sandy Roy Beauty Therapy Institute in South Africa, has been a global practitioner and campaigner of standards in the beauty and spa industry for more than 30 years. "Becoming president of CIDESCO International is an honor and a privilege—a dream and aspiration of mine for many years," she said. "I couldn't be more proud to be part of such an inspirational organization, and I am looking forward to supporting the further growth of CIDESCO worldwide."
In addition, Vicky Harper (Switzerland) was re-elected to a new-titled position of education quality assurance director; and board members retaining their positions include vice president Karin Lupgens (The Netherlands), education development director Pamela Adkins (Japan), and financial director Biju Nair (India).
A number of CIDESCO members were also given awards for their services to the industry:
Annica Joensuu, CIDESCO Section Sweden, received the CIDESCO Medaille d'Or
Cheng Ming Ming , CIDESCO Section China, received the CIDESCO Medaille du Merite
Lydia Sarfati, CIDESCO Section USA, received the CIDESCO Medaille du Merite
Norlisa Lee Binti Abdullah, CIDESCO Section Malaysia, received the CIDESCO Medaille d'Esthetique
Anna-Cari Gund, CIDESCO Section Sweden, received the Honorary President title
Over the five-day congress, attendees enjoyed events including the CIDESCO Examiners' and Schools' Meetings, a General Assembly and Expo. In addition, the World Congress Educational Summit was packed with presentations by Samuel Shatkin Jr. (U.S.), Lydia Sarfati (U.S.), Andrea Bovero (Italy), Jens Bergstrom (Scandinavia), Mark Lees (U.S.), Carol Phillips (U.S.), Jacqueline Kennedy (Zurich), Elaine Sterling (U.S.) and Cynthia Malcom (U.S.). Education covered techniques, ingredients, trends, procedures and business building tracks. The World Congress offered a lively opening reception at the Hyatt Regency Chicago, a cultural evening cruising down the Chicago River, and "The Architecture of Beauty" gala dinner at the top of the Willis Tower.
The 2020 CIDESCO World Congress will take place in Indonesia in September 2020. CIDESCO Section Qatar has also been accepted to host the 2021 World Congress.
About CIDESCO: Founded in 1946 in Brussels with its Head Office in Zurich, Comité International d'Esthétique et de Cosmétologie (CIDESCO) is the World Standard for Beauty and Spa Therapy. Membership is open to schools, colleges, beauty salons, spas and students looking to achieve a superior level of training and the CIDESCO Diploma qualification which is globally recognized. CIDESCO is proud to be represented in over 40 countries across five continents.