Delegates to the 2018 International SalonSpa Business Network (ISBN) conference arrived aware of the many threats facing their companies in an ever-changing business landscape. They left with new industry comrades and armed with solutions and a deeper understanding of how to adapt to those changes.
'Technology represents a major disruption, as do the attitudes of younger generations. Salons and spas need to embrace these trends before they disrupt their profitability,' explained one keynote speaker, top expert in the global future of work and best-selling author, Cheryl Cran. 'Disruptions happen quickly and those companies agile and innovative enough to respond are the ones that will survive. Beauty industry leaders – whether in a small salon or overseeing multiple locations – must upgrade their mindset so they are open, flexible and willing to embrace changes now rather than delay or rely on past successes to dictate future decisions.'
RELATED: International SalonSpa Business Network Conference to Create Plans to Benefit Beauty Industry
The speakers, from a mix of big business as well as beauty, focused on strategies to navigate through current disruptors that threaten to send even the most successful company into decline. But they also discussed opportunities for the industry in the new experience-driven economy and used crowd-sourced dialogue to help members develop their own strategies for thriving into the future. Proving it is ahead of the game itself, the ISBN live streamed all the speakers on an open channel so the whole industry might benefit. Sponsored by Matrix, Pureology and Redken, this live stream has been archived for the next 12 months so that attendees can revisit the sessions for continued inspiration leading up to next conference.
Capturing the sense of discomfort and confusion that many business owners feel in their day-to-day, the opening ceremony, sponsored by Kao Salon Division, actually began with a surprise flash mob.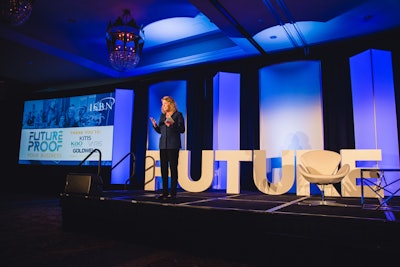 'Why would we start with a flash mob?' asked Rhoda Olsen, ISBN president and vice chair of Great Clips. 'A flash mob is a symbol of confusion, disruption, fun, excitement, and I think that's what the future holds for us. It's going to be disruptive, challenging and confusing, but together, working with one another, we can future-proof our businesses and be more prepared.'
RELATED: The Spas at Mandarin Oriental Joins the Green Spa Network
The major message of the two and a half day conference held in Scottsdale, Arizona, was that beauty industry leaders must face up to the current and future disruptions, from changing retail habits to the threat from artificial intelligence so they can predict and react to those changes.
'We need to prepare for the big animal that is the non-professional industry stealing market share,' said Paolo D'Elia, partner at GS Beauty, Ontario. 'ISBN conference is all about opening up your most guarded secrets to your peers because it is the only way we can grow the whole business and get back our market share that we've lost over the past years.'
About ISBN
The International SalonSpa Business Network (ISBN) represents the global voice for the multi-location salon and spa segment of the professional beauty industry. It comprises the full spectrum of the industry, high-end to value-priced, salons/spas with thousands of locations to those with two or three, corporate-owned to individually-owned, franchise companies and their franchisees. To be eligible for membership, applicants must own or operate 5 or more salons or spas and employ at least 50 licensed professionals; or own and operate 2 or more salons and spas that yield total gross sales of at least $3 million annually; or franchisors in the industry.
The largest salon, spa and barbershop groups in the country descended on Arizona last week to make sure they stay ahead of the curve as the multiple disruptions forecasted for the industry start to bite.