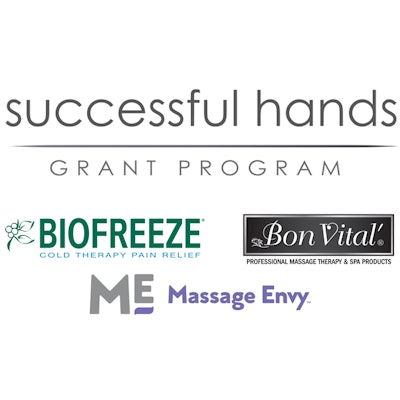 Biofreeze, Massage Envy and Bon Vital' are pleased to announce the winners of the 2017 Successful Hands Grant Program. The program, a collaborative effort between three leading brands in the industry, supports professional massage therapy students by awarding eight $1,000 educational grants. In addition, each winner's school receives a $1,000 grant package. In February, applicants were asked to complete a 200-word essay on "What being a successful massage therapist means to me." The submission process brought in over 600 applications before it closed on October 15, 2017.
RELATED: Spa Pros Shed Light on the Benefits of Using Aromatherapy
"We are always grateful for the opportunity to invest in the future of the massage therapy profession, and this program is one of my favorite ways to do so," said Marshall Dahneke, Chief Commercial Officer, Performance Health. "Once again, we are impressed by the high level of professionalism and passion exhibited by the participating students. I am excited and honored to announce this year's winners."
The 2017 program recipients were announced in a video message today on the Successful Hands Grants and Massage Envy Careers Facebook pages and are listed below:
Desserin Custodio, National Holistic Institute, Studio City, CA
Paul Howey, Cortiva Institute, Scottsdale, AZ
Annemarie Juntunen, Pittsburgh School of Massage Therapy, Pittsburgh, PA
Bailey Mathews, National Holistic Institute, Sacramento, CA
Joanne Nastri, Inland Massage Institute, Spokane, WA
Cynthia Nelson, Northwestern Health Sciences University, Bloomington, MN
Tresca Pennington, School of Massage at Kneaded Energy, Greensboro, NC
Annie Seward, Central Florida School of Massage Therapy, Winter Park, FL
RELATED: The Ancient Remedy Willow Bark is a Skincare All-Star
"Therapists and their commitment to taking good care of their clients are at the heart of the Massage Envy brand," said Joe Magnacca, CEO of Massage Envy Franchising. "We work hard to support and elevate the entire profession, which is why we have been a partner in the Successful Hands Grant Program for the past four years."
"We're excited to partner with Performance Health to support these students who are dedicating their lives to total body care," added Rick Boden, Director of Employee Brand Engagement, Massage Envy. "We received so many wonderful submissions; I know it wasn't easy for our selection committee to choose only eight winners. We're very grateful for their willingness to serve on the review committee."
2017 review committee members:
Scott Dartnall, President and CEO, One Concept
Mae Manacap-Johnson, Senior Editor, Pulse; International SPA Association
Karen Menehan, Editor in Chief, MASSAGE Magazine
Michelle Medaris, Associate Editor, Massage Today
Leslie Young, ABMP, Vice President Communication.
"We can't wait to see what the 2017 winners accomplish and we look forward to kicking off the 2018 Successful Hands Grant Program next month," said Lynda Solien-Wolfe, Vice President Massage and Spa, Performance Health. "Be part of our Facebook community to stay up to date on all the launch details."