Professional Beauty Association
's (PBA)
International Salon and Spa Expo
(ISSE) kicked off 2017 with a sold-out expo. More than 35,000 beauty pros from around the country gathered in Long Beach, California, from January 28-30 to refine their skills and master the latest trends.
"On behalf of the entire Professional Beauty Association team I want to thank our members, attendees, exhibitors and sponsors for helping to make ISSE a success. The energy of this year's show was outstanding, and the show floor had a great vibe," said PBA Executive Director Steve Sleeper. "We are also grateful to see our membership numbers increase. As the industry's association, our focuses are always on our members' needs and identifying opportunities to elevate the industry."
"ISSE 2017 was a great success. The show floor looked and sounded great. We want to thank everyone who supported the show either by purchasing a ticket, educating or exhibiting," said Susan Howard, ISSE Show Director and PBA Director of Event Operations.
ISSE 2017 Highlights:
#LovePBA: In addition to focusing on inspiring education and top beauty companies, ISSE serves as a platform to educate the beauty industry on PBA's mission and activities. This year, PBA launched #LovePBA at ISSE and worked with member companies to create a "gift bag" incentive to encourage attendees to join or renew. PBA members Brazilian Blowout, Fromm, Helen of Troy, Joico, SalonCentric and Zotos supported this effort with product donations.
RELATED: 2017's Top Hair Trends
Exhibitors & Best Booth Awards: ISSE hosted top brands from all aspects of beauty, including emerging and established brands. Companies, such as amika, Redken, Matrix and MoroccanOil, brought big brands and new products to the show. Best Booth Awards were presented to the following companies: Best Linear Booth: Alizar Pomade, Best Island/Peninsula Booth: JOIFUL, Best Island Booth: Moehair USA Inc.
Social Media & Influencers: ISSE continues to lead the beauty industry by connecting attendees with leading beauty influencers. The 2017 show included some of the biggest names including Guy Tang, Larisa Love, Chita Beseau, Shelley Gregory, Jenny Strebe, Phil Ring, Lo Wheeler, Miss Fame, Jacob Khan and Rebecca Taylor. These influencers helped share ISSE across multiple social channels from Instagram to YouTube.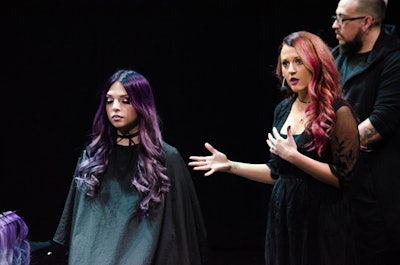 Standing Room Only Education: Classes including men's grooming, balayage, makeup and braiding, were sold out or had standing room only. With a focus on balayage, attendees packed classes for Sunlights Balayage, Ted Gibson Academy and Product Club. A partnership with the California Makeup Academy brought an extremely popular makeup boot camp and a bridal makeup class to the show.
Center Stage Presentations: Presenters included Nick Arrojo, Martin Parsons, Sassoon Academy featuring Mark Hayes, Traci Sakosits and Richie Rivera. Chrystofer Benson and Tabatha Coffey also presented to a packed audience from their new collection "Diametric." Two-time NAHA Hairstylist of the Year Winner, Charlie Price, showcased updos in a modern way with Beauty Underground.
PHOTOS: Valentine's Day Products
Nail Spot: The Nail Spot featured special educational offerings to nail technicians including the importance of social media, tips on how to build their businesses, nail salon safety and more. NailPro Magazine Nail Competition was also a great success. The Fantasy Nail Art – Mermaid Theme competition was a featured story by Snapchat.
PBA Beauty Bar: The Beauty Bar provided participating sponsors the opportunity to showcase their products to thousands of ISSE attendees for a good cause. Jenny Strebe also hosted a braiding bar with all donations going to support the cause. In total, nearly $5,000 was raised to benefit the PBA Foundation's Cut It Out: Salons Against Domestic Violence program.
Competitions: Competitors in Barber, Hair, Nails and Makeup showed off their skills. The PBA Hair Competitions included three new categories – Hairbraiding – Coachella Theme, Ladies Haircutting and a Night at the Club. ISSE also hosted a first-time makeup competition focused on a Special Effects category. Major League Barber Battle returned with five explosive categories: SuperWoman Fade & Style, Freestyle Design, Super Student, Original Tag Team Design, Fastest and Cleanest Fade.
Hairbrained Teach In:  ISSE 2017 celebrated the 4th annual Hairbrained Teach In. This year 13 of the industry's most vetted educators came together to educate and inspire. The Teach In featured: Simon Miller, Sally Rogerson, Josh Lamonaca, Jenny Strebe, DJ Muldoon, Naeemah LaFond, Frank Rizzieri, Traci Sakosits, Charlie Price, John Mosley, Berry Bachen, Mark Hayes and DJ Riggs.
The International Salon and Spa Expo will return to Long Beach on January 27 – 29, 2018.
The