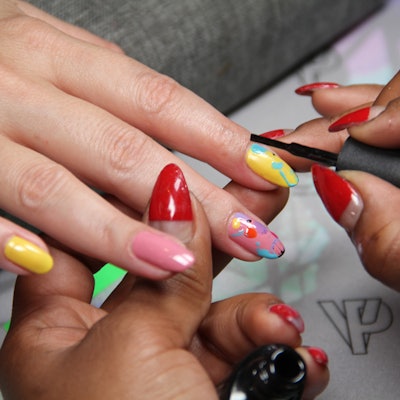 From November 28th through December 3rd, CND took over Miami-based salon Vanity Projects during Art Basel Miami Beach. The Design Lab team worked tirelessly and creatively, using CND products to churn out countless designs inspired by the best of Basel. VIP guests were treated to services and had the option to choose from a "menu" of 16 designs channeling the work of artists such as Daniel Buren, Takashi Murakami, Picasso, Dali and more; or to work in tandem with their celebrity nail artist to create an entirely unique design. The impressive roster of guest nail artists included:
 ·         Ashley Craig (@kickashnails)
·         Britney TOKYO (@britneytokyo)
·         Lauren Wireman (@wildflowersnails)
·         Miss Pop (@misspopnails)
·         Spifster (@spifster)
·         Torie Bastian (@thepolishedpinky)
The guest list included international collectors, art dealers and celebrities, including Jenine Howard (Juwan Howard's wife), Jasmine Solano (DJ), YesJulz (Media Personality), Ally Shapiro (Housewives of NY cast member) and Martha Graeff (Model). In addition to the salon takeover, Vanity Projects and CND provided services at a pop-up at the W Hotel in collaboration with Surf Lodge as well as The Perez Art Museum, where they offered Julio le Parc inspired designs using CND's VINYLUX Weekly Polish.
 To bring the experience to fans far and wide, CND and Vanity Projects featured live demos and fun giveaways across social media. Following the week-long activation, the exclusive Art Basel designs were made available to Vanity Projects' clientele for a limited time.