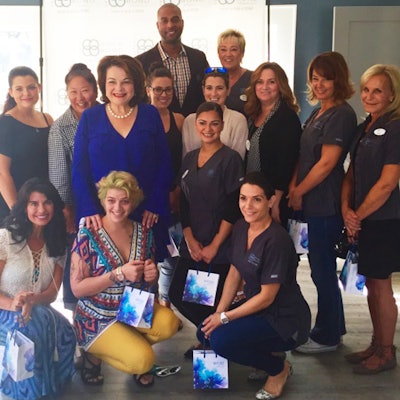 [Image: Lydia Sarfati with Salon Coco Bond staff and guests]
The all-day event began with Repêchage CEO and founder Lydia Sarfati inspiring and motivating all of the beauty professionals in attendance with her presentation.
The Repêchage team helped successfully ring in the launch of the new Facial Bar at Salon CoCo Bond on Tuesday, September 13, 2016 at the Facial Bar Beauty Event in Shrewsbury, New Jersey.
Salon CoCo Bond opened up their newly launched Facial Bar to the public, with over 25 pre-booked appointments. The salon will now be offering a full menu of Repêchage Facial Bar treatments, including the new! Repêchage FUSION Express Bar & Spa Masks. The launch featured the FUSION Chocofina Facial with an Enzyme Peel. Clients were treated to a Repêchage Vita Cura Enzymatic Peel made with pure papaya enyzmes for a mild exfoliation, followed by the hydrating FUSION Chocofina Facial, made of pure cocoa powder, and one of the four FUSION "flavors."
The Repêchage Facial Bar Concept showcases the once-hidden spa treatment front and center on the salon floor, creating a revolutionary new idea in the spa service philosophy. Rather than hide away treatments and keep an element of mystique, the Facial Bar creates a visual menu of spa services giving clients the opportunity to say, "I want what she's having." FUSION Express Bar & Spa Masks is a relaxing facial treatment that helps stimulate the senses while helping to improve skin texture and elasticity as well as reduce the appearance of fine lines, wrinkles and skin discolorations. With delectable and aromatic "flavors" such as matcha, chocolate, vanilla/pumpkin and mixed berry, these fresh, customized facials are like smoothies for the skin. Clients will love the delicious aromas while reaping the physical and emotional benefits of sensory stimulation from light facial massage and a calming, custom-blended face mask, leaving skin looking and feeling restored and smooth.
Salon CoCo Bond was founded in 2010 and has since become a major "one stop shop" for Central New Jersey's hair, nail and skincare needs.