According to the USDA, nearly 40 percent of the food supply in the United States goes to waste. To combat this epidemic, Miraval Arizona Resort & Spa, one of the nation's leading wellness destinations, is launching new classes that give guests practical tools to reduce food waste at home. Miraval's new Conscious Cooking, Conscious Baking and Conscious Mixology demonstrations and Conscious Cooking Lecture provide valuable information and hands-on lessons that translate Miraval's own Conscious Cooking philosophy – an ethos that dictates how Miraval's food is sustainably produced, prepared and consumed – to the home kitchen.
"At Miraval, being conscious about our cooking involves understanding where our food comes from and being mindful of how we prepare it, with a concentrated effort to minimize food waste and reduce our input of food into landfills," said Marc Ellin, global head of Miraval Group. "We are proud to pass this knowledge on to our guests and inspire them to adopt a conscious cooking mentality at home. Our hope is that, together, we'll do our part to combat this major international issue and protect our planet."
RELATED: Miraval Arizona Resort & Spa Set to Unveil The Retreat
Led by Executive Chef Kyle Nottingham and Head Nutritionist Angela Onsgard, R.D., Miraval's Conscious Cooking Curriculum includes the following programs designed to relay Miraval's passion for food, as well as its reverence for the process of growing, preparing and consuming it:
Conscious Cooking Lecture: During this informative lecture, Miraval's culinary team shines a light on the food waste epidemic and shares practical tips and tricks for how guests can minimize waste at home.
Conscious Cooking: During this interactive cooking class, guests learn from Miraval's chefs how to create healthful and flavorful dishes while also reducing food waste. Using everyday ingredients that would otherwise be thrown away, such as unattractive produce, vegetable peelings, over- ripe fruit and sour milk, guests gain practical skills for cooking mindfully upon leaving the resort.
Conscious Baking: An extension of Miraval's Conscious Cooking demonstration, this interactive workshop led by Miraval's pastry team teaches guests how to create delicious baked goods that also reduce food waste at home.
Conscious Mixology: In this lively class, guests learn how to create impressive craft cocktails using leftover ingredients. For example, cucumber peels can serve as a lovely garnish, over-ripe berries are perfect for making simple syrup, and fruit trimmings can infuse liquors with interesting flavors.
RELATED: Industry Experts Reveal Spa Trends, Values and Challenges in 2018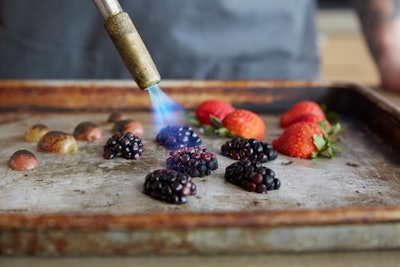 Following each lecture and cooking demonstration, guests receive a take home card containing easy-to- follow recipes and tips for how to apply Miraval's Conscious Cooking philosophy at home. Armed with this knowledge, guests can create dishes that nourish and delight the senses, as well as protect and preserve the environment.
PHOTOS: Spa Profile – Miraval Life in Balance Spa, Arizona
In addition to the guest programming, Miraval's culinary team is partnering with likeminded organizations that are taking steps to food waste. For example, Miraval chefs will perform Conscious Cooking demonstrations at select Whole Foods locations to teach shoppers simple recipes that incorporate unused grocery ingredients. Furthermore, Miraval's kitchen has partnered with Kanaloa seafood to use by-caught fish, or the fish that are caught in nets cast for another specific kind of fish and would typically be discarded, and Miraval "rescues" imperfect produce from the Southern Arizona Tomato Company for use in the Conscious Cooking classes and in the resort's dishes. Miraval is also committed to purchasing rotational crops and whole animals from a local grain and poultry farms to cut down on additional labor and waste for farmers. The resort returns vegetable scraps and compost to that farm so that its birds can consume healthy, organic food while eliminating excess waste.
The new Conscious Cooking Curriculum will be offered as part of Miraval Arizona's robust list of more than 200 dynamic health and wellness programs, all of which are designed to give guests the tools to lead a healthier, more mindful life. These include organic gardening workshops, healthy cooking demonstrations, beekeeping classes, state-of-the-art spa treatments, meditation, yoga, outdoor challenge activities, energizing fitness classes and more.
Chef Kyle incorporates several environmentally-friendly recipes that help the everyday cook reduce food waste in their own homes. The recipe below is one that's easy to follow and extremely delicious:
Mix Berry Compote
Ingredients:
1 cup overripeberries of your choice
¼ cup water
½ cup sugar
1 tsp vanilla extract
Method:
Place all ingredients in saucepan. Bring to simmer. Chill.
 Serving:
In a serving dish, start with a small serving of your berry compote. Top with a scoop of banana ice cream and garnish with your crispy cake crumbs.
New socially conscious programming teaches guests how to reduce food waste in their own homes.