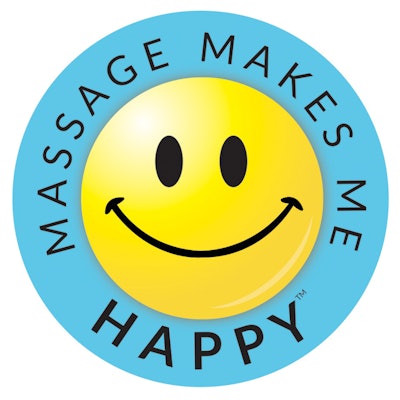 On March 20, 2018, the world will celebrate the positive impact of massage therapy through "Global Massage Makes Me Happy Day." The Massage Makes Me Happy Initiative, in partnership with the Global Wellness Institute, aims to celebrate the healing powers of massage therapy and promote its benefits through research, education, advocacy and global awareness. March 20th is also recognized as the United Nations' International Day of Happiness.
Massage therapy has experienced tremendous growth in the past decade, with more and more consumers seeking out massage to support and enhance personal well-being. However, there is still a lack of understanding of the therapeutic benefits and deeper impact that massage and bodywork have on people of all ages. Therapeutic touch therapies helps manage pain and stress, resulting in happier lives.
Renowned researcher Dr. Tiffany Field has been conducting research on the impact of massage therapy for several decades. In 1992, Dr. Fields founded the Touch Research Institute (TRI) at the University of Miami. Her research findings illustrate massage therapy's ability to lessen depression, diminish anxiety and pain, and spur the release of oxytocin, a "feel-good" hormone, among other benefits.
RELATED: Global Wellness Summit Releases 'Eight Wellness Trends for 2018'
"At the Touch Research Institute, University of Miami Medical School, we have conducted some 122 massage therapy studies that have focused on pregnancy, depression, anxiety, pain syndromes, auto-immune and immune conditions," says Dr. Fields. "In these studies, we have assessed massage therapy effects on mood either with a sad to happy face scale with children or the Profile of Mood States Scale with adults. Invariably the research participants were happier after being massaged. The massages not only made them feel happy but also made them healthier."
Global Massage Makes Me Happy Day will spread global awareness of the positive impacts of massage therapy through educating and sharing the benefits, collecting data and research, and creating systems and structure to help everyone better understand what massage can do them.
The Massage Makes Me Happy Initiative was founded by Initiative Chair Lynda Solien-Wolfe, Vice President of Massage and Spa for Performance Health, and Vice Chair CG Funk, Owner of Funk Spa Consulting. Lynda and CG both have over 25 years experience in the massage and spa industries and both deeply believe in the healing powers of massage therapy and the importance of the work that massage therapists contribute to the world.
RELATED: Industry Experts Reveal Spa Trends, Values and Challenges in 2018
"The Global Massage Makes Me Happy Day will be a great celebration of the happiness massage brings to millions of people throughout the year and throughout the globe," says Solien-Wolfe. "Human beings need positive touch and we are committed to supporting the work of massage therapists and their professional growth. We look forward to the day massage therapy will be fully understood and honored as the powerful healing modality it is."
Some of the many benefits of massage and its role as a tool to help achieve happiness include:
Pain Management – Touch therapies may help manage pain, which results in greater well-being.
Balance – Massages decrease stress hormone cortisol while increasing serotonin and dopamine, instantly improving mood.
De-stress – Managing stress leads to a happier life.
Productivity – Lowering stress levels can increase efficiency and time management.
RELATED: Global Wellness Institute to Host Sustainability Roundtable
Here are several ways to celebrate Massage Makes Me Happy Day:
Gift a Massage – Whether it's for a loved one, a best friend or the barista who makes your coffee every day, gifting a massage is a great way to spread happiness to people in your life.
Massage Therapists – Book a Massage for You – A huge part of this initiative is to also invest in your own happiness and well-being in order to do that for others. Self-care is essential to living a happier healthy life.
Celebrate Employees with a Massage – Host a massage therapist and provide chair massages for your employees.
Celebrate with family – Have a massage party with your kids.
Offer a Special Promotion – If you're a massage therapist, spa owner/director, massage school or wellness center, you can celebrate Massage Makes Me Happy Day by offering special promotions, upgrades, discounts or by hosting an event on March 20, 2018.
Thank your Massage Therapist. Offer thanks to your favorite massage therapist with a card, gift or email.
Share Your Story – How does massage therapy make you happy? Whether you receive massage therapy regularly or are a massage therapist yourself, share your story with others, via social media channels, using the hashtag #MassageMakesMeHappyDay.To learn more about Massage Makes Me Happy, visit globalwellnessinstitute.org/massage-makes-me-happy-initiative.