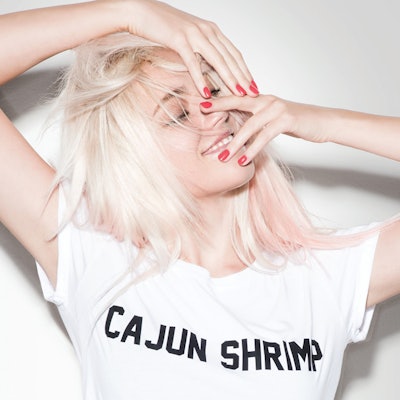 [Image: Courtesy of OPI Products]
The musician and model is the fresh new face for the nail company's long-wear lacquer line.
This fall, 30 of OPI's most iconic shades will be available for the first time in the number one salon brand's next generation long-wear lacquer line, Infinite Shine. The company has tapped Pyper America Smith – a style icon of her generation – as brand ambassador for OPI Infinite Shine for this growing collection of its longest-wearing, high shine professional lacquers.
This is yet another new role for 19-year-old Pyper, who plays bass guitar alongside siblings Lucky, Daisy and Starlie in the family surf-rock band The Atomics. She's also an in-demand model who has walked runways for Philipp Plein and Ermanno Scervino with Moschino, shot in Iceland with Annie Leibovitz, and graced the red carpet at the 2016 Met Gala.She shares her innate sense of style and passion for color with a massive social media audience including 688,000 Instagram followers. "OPI was my go-to brand long before this partnership," said Pyper. "I love the intensity of the color with just one or two coats and the quality of the finish."
"Pyper embodies infinite possibility, and by constantly reinventing herself, she is inspiring a new generation of women," said OPI co-founder and brand ambassador Suzi Weiss-Fischmann. "With Infinite Shine, we wanted to reinvent the manicure, giving salons a fresh way to upgrade lacquer clients and attract new clients." Pyper will be sharing her favorite OPI Infinite Shine shades and looks on her social media channels, and of course, rocking them at work and at play.
"There's 'infinite shine' in all of us," said Pyper. "We just need to bring it out, to be genuinely ourselves. Color – worn with confidence – is one of the best ways."
Infinite Shine, a professional three-step system, offers up to 10 days of wear, gel-like shine (no light needed), and easy, soak-free removal. Now, color enthusiasts will find their perennial OPI favorites among some 90 Infinite Shine long-wear lacquer choices.