Flawless Fragrances
The App: Intentional Aromatherapy App for iPad (by Body Bliss)
Claim to Fame: Suggests a customized blend of essential oils for clients based on their moods, desires and intentions. The aroma is then mixed into products such as scrubs or body butter.
How it Works: Clients are looking to feel pampered and special when they enter your spa's doors, so tailoring the visit to each individual is bound to leave a lasting impression. The app guides users through a series of multiple choice questions designed to assess what feelings they'd like their scent to evoke: Are they seeking to banish the blues? Shift their mood? Invite change? Based on clients' responses, the app concocts the perfect, unique aromatherapy recipe. A spa staff member then blends the fragrance using unscented bases, essential oils and botanical boosters, all of which are purchased through the app.
RELATED: Webinar – 10 Things You Need to Know About Spa and Lifestyle Retail
"Our clients really enjoy Intentional Aromatherapy," says Michelle Somerville, spa director of the Spa at Woodstock Inn in Woodstock, Vermont. Initially, the spa only used the app to create customized fragrances for retail products, but last summer it started mixing personalized scents for use in the spa's signature body treatment. At the end of the visit, clients receive a printout of their aroma recipe, and some purchase a lotion or scrub infused with their scent right then and there. "They usually say something like: 'I'm so excited!' or 'I've never seen anything like this before!'" reports Somerville.
Price: $2,800, including the app, oils, mixing utensils, recipe book and on-site tutorial.
Simpler Scheduling
The App: Booksy BIZ (for professionals); Booksy (for clients)
Claim to Fame: Customers can find your spa and book services 24/7.
How it Works: These days, the secret to keeping your spa filled to capacity isn't merely offering excellent services; it's ensuring that booking those
services is a breeze. The easier you make it for clients to set up an appointment, the sooner they'll be showing up at the spa; if they can't book right away, they're more likely to put it off and may even forget about the visit altogether.
RELATED: Plugged In: SEO Strategies for Your Business
This mobile app connects beauty and wellness businesses with clients seeking services in their area. Professionals can create a business profile with photos and text describing their offerings and available hours; potential patrons registered with Booksy can find spas by location, desired treatment or business name, and then book an available appointment. The app automatically updates your schedule.
Booksy BIZ also allows spas to maintain key client information, including their booking history, revenue stats and personal notes. It can send push notifications reminding guests to schedule their next appointment, notify them of special offers or wish them a happy birthday—and you can remind regulars to register with Booksy for priority booking.
Price: Booksy BIZ starts at $29.99 per month; Booksy is free.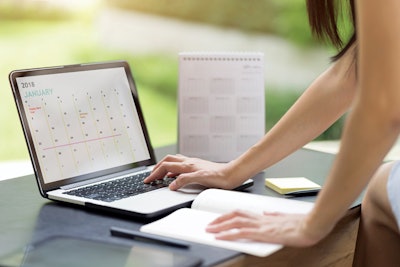 Marketing Master
The App: Frederick (by Booker)
Claim to Fame: Sends automated, targeted promotions and information to clients.
How it Works: One size doesn't necessarily fit all when it comes to showcasing your offerings, not to mention finding the time to run marketing campaigns tailored to specific clients. This software application analyzes a spa's calendar system and historical customer transaction data to determine potential slow days or times, and identifies which patrons would be most likely to book these available spots. Once those projections are made, Frederick automatically notifies the pre-selected clients of last-minute slots by email or text. Pros can also program the app to automatically send personalized offer to guests who haven't booked in a while, and provide customized incentives to repeat guests.
On average, Frederick has increased our revenue by $3,000 to $5,000 per month with just the automation," says Elena Morelli, owner of The Simply Skin Spa in Folsom, California. "It has a great feature that allows for immediate and direct feedback from clients after their experience as well, so any missed service opportunities can be addressed immediately." She adds that Frederick has changed the way her spa approaches its marketing strategies. "It takes the guesswork out of creating relevant marketing information for clients, and decreases the amount of manpower needed to do so," reports Morelli.
Price: Packages start at $49 per month.
Sales Savvy
With so much software that helps businesses manage their retail behind the scenes, it's only fitting that apps allowing customers to buy their products are emerging—with more sure to be available in the near future. For example, Soldsie and Have2Have.it (by Soldsie) are two apps that enable spa pros to sell products from Facebook and Instagram. When you use Soldsie to post a product photo, customers can order it by simply writing "sold" in the comment section. First-time buyers will be prompted to register with Soldsie to receive the invoice, but all subsequent orders by that customer will be invoiced automatically. Have2Have.it allows you to add a link to your Instagram profile that will take users directly to a full photo gallery of your products. The images, when clicked, link to a sales page where the products can be purchased.
–by Barbara Diggs
It's a universally acknowledged truth that the right app can solve almost any problem— even the tricky task of making clients fall in love with your spa. But good luck trying to find it. According to Statista, there were more than 2.2 million mobile apps available through Apple as of March 2017, and that's not including the countless other web- and cloud-based software applications out there. Still, taking the time to identify and use technologies that enhance the customer experience—and hence, boost loyalty—is well worth the effort. So here, we focus on a few apps sure to help spas streamline business and keep clients coming back for more.