What is the brand's hero product?
The Ultra Sensitive Zinc Oxide Wax is our No. 1 bestselling wax. Everyone loves it because it can remove hair on clients with even the most reactive skin who are prone to breakouts or irritation.
Where do you find inspiration?
I am most inspired when people reinvent themselves. Whether it's a career or state of mind, I truly believe change is good. When your body needs or wants a change, I say just do it and release yourself.
What advice would you give to someone just starting out in the spa industry?
Speak to everyone. Listen and learn from those who have been in the industry for a while. Network and make friends, as you'll need them on your path to success.
RELATED: Professionals Choice Awards 2018 – Collections
Who would you most like to meet?
It would be wonderful to meet Marilyn Monroe, to see for myself the true beauty of this blonde legend. Marilyn established her trademark of being sexy and fun; she was not only brilliant, but captivated audiences with her style—and she still shines today.
What's your favorite part of the day?
I'm definitely a morning person. I have the most energy when I first wake up, and feel I can conquer the world—or at least my job!
You've been in the industry for over 20 years. What's the biggest change you've seen?
Marketing on social media. "It used to take an entire team weeks to develop campaigns, working on print and story advertisements to launch a product. Today, you can take a picture or video of something and immediately show how it's used on Instagram, Facebook and Twitter. It can quickly go viral, and if you back the post with a celebrity it'll be an instant success.
Tell us something most people don't know about you.
I've always had an interest in performing arts and love attending the opera, ballet and theater. Occasionally, you may find me singing along to show tunes, too.
RELATED: Hair Removal Experts Discuss the Key Ingredients in Their Products
What's in the pipeline for the company?
We're developing a new collection of waxes that will accommodate targeted skincare issues.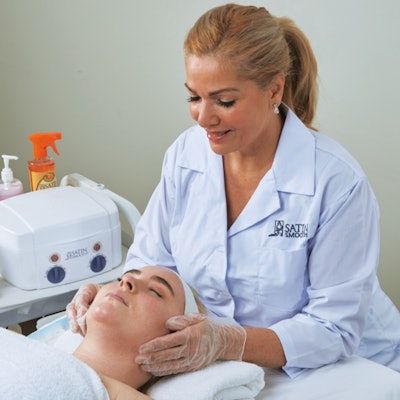 What's on your bucket list?
I'd love to organize spiritual retreats for people in our industry, to help them open their minds and hearts.
Personal mantra?
Great things never come from your comfort zone.
Guilty pleasure?
Netflix with earphones— no distractions!
Best part of your job?
Creating innovative products inspired by wellness and beauty.
Favorite food?
Vanilla ice cream
Scariest thing you've ever done?
Hosting Christmas for my large Italian family.
Can't leave the house without?
Lipstick
If you could cross one thing off your to-do list, what would it be?
Aging! I just don't have time for it.
How do you unwind?
I'm a girl from the '80s—when music and dancing came alive—so I love dancing the night away!
If you could change one thing about yourself, what would it be?
I've always been a jack-of-all-trades. My motto is 'If you need something done, you have to do it yourself.' In my next life, I would like to master at one special thing and be perfect at it.