What skin concerns does retinol address?
Beth Bialko, associate director of global curriculum, The International Dermal Institute, New York City: Retinol is considered the industry's gold standard ingredient for treating the signs of skin aging. It has been shown to help accelerate skin renewal, and reduce the appearance of fine lines, wrinkles and hyperpigmentation, resulting in firmer, smoother, more even- toned skin.
Kim Li, owner, Uber Skincare River City, Jacksonville, Florida: Retinol is best suited for treating acne, signs of aging and psoriasis. For acne, retinol can unclog pores and reduce breakouts—fewer breakouts means less scar formation. It also makes blackheads less 'sticky' as plugs rise to the skin's surface. For wrinkles, retinol encourages collagen and cytokine production, stimulates new blood vessels and exfoliates the epidermis, revealing the fresher, younger-looking skin underneath. Finally, retinol can help manage the appearance of psoriasis by promoting new, healthy skin cell formation and aiding the absorption of other topical medication.
RELATED: Why Shea Butter is an Esthetician's Best Friend
Are there skin conditions in which retinol should be avoided?
Corri Vara, owner, International Day Spa, Redlands, California: We recommend that clients with sensitivity or rosacea stay away from products containing retinols—some can make skin red or irritated, especially with these pre- existing skin conditions.
Robin Deresh, co-founder and esthetician, Skin & Tonic, Raleigh, North Carolina: We avoid retinol- based treatments on clients who have sunburned, irritated or overly dry skin. Guests must also stop using retinol at least 48 hours before receiving a peel or waxing service.
Bialko: Retinol use should be discontinued two weeks before and during prolonged exposure to sunlight, such as a beach vacation. It should not be administered on sensitized, broken or injured skin, and must not be used in LED treatments. And women who are pregnant or nursing should avoid retinol altogether.
How do you approach any issues that clients may have with tolerability?
Li: It's always best to choose a milder retinol with a lower concentration for first-time users, so their skin doesn't get irritated and flake. As they gradually get used to it, these clients can always switch to a stronger product to get better results. Everyone has a different reaction, so I moniter the issue and adjust the retinol strength accordingly.
Vara: Clients should slowly introduce retinol into their skincare routine. Generally, I suggest they begin using the new product one or two times per week and—if there's no sensitivity— build up from there. We recommend Murad's Retinol Youth Renewal Serum, as its formula combines three retinol technologies that gently deliver results without irritation.
RELATED: Treating and Understanding Cellulite
Deresh: We conduct very thorough consultations, especially when it comes to retinol use. We have to get the skin to a healthy place so it can tolerate the ingredient and ultimately benefit from it. Clients are often using other products—mixing and matching cabinets full of items—that exacerbate retinol's results, so we create a customized regimen to control that potential for irritation. Our plan is to start slowly: introduce our gentlest retinol products first, such as DermAware's Vital Retinol Gel Gentle, and limit the number of application days per week. Clients frequently come in feeling that they can't tolerate retinol, when in fact they just haven't been given proper guidance; we have guests with sensitive skin who use it just once weekly, or twice if it's a gentle dosage.
Bialko: In the treatment room, you can avoid an itching, burning and peeling response by pre-conditioning the skin with alternative exfoliation treatments, e.g., a professional exfoliant that combines retinol with other resurfacing agents such as salicylic acid. Clients can also prepare their skin and build a tolerance by using a low-strength retinol at home prior to treatments. This helps the skin produce receptors that bind to the retinoid molecules, resulting in less irritation. Another option is to mix the retinol with a buffer cream until the skin is acclimated to the ingredient. For instance, Dermalogica's Overnight Retinol Repair comes with its own Buffer Cream that allows clients to customize the amount of retinol they apply. We advise starting with one part retinol to three parts buffer, and eventually reversing the ratios. They should also keep the skin hydrated and use soothing botanicals—such as aloe vera, licorice and lavender—to minimize irritation. And they must wear a physical sunscreen at all times during the day, as their skin will be more sensitive to UV exposure.
Retinol Products
How do you incorporate the ingredient into professional treatments?
Deresh: Our non-acidic retinol, vitamin C and peptide peel is part of our most popular facial, where it's used in conjunction with microdermabrasion. There's no downtime or stinging, and clients leave feeling firmed, plumped and glowing. By adding in the retinol, we're helping to regenerate their skin from the inside out, and they'll feel the effects of the facial for that much longer.
Vara: Retinol comes in a variety of forms; our professional treatments—Murad Youth Building Facial, Vitamin C Anti-Oxidant Firming Facial and Anti-Aging Resurgence Facial—include the less aggressive retinyl palmitate, which helps instantly plump the skin to improve the appearance of fine lines and wrinkles.
Bialko: Retinol can be incorporated into professional exfoliation services to promote skin regeneration while evening out tone and texture, and a retinol serum can be applied under a mask or moisturizer to address signs of aging. For increased penetration and results, use the serum with an electrical modality for a few minutes: microcurrent for specific iontophoresis, ultrasound in the penetration mode, or galvanic iontophoresis on the positive polarity. It's important to note that peeling and/or flakiness may occur with use of retinol in professional treatments, and clients must wear a (minimum) SPF 30 and avoid direct sunlight after the service.
Li: During facials, I apply retinol after performing microdermabrasion. This reduces the appearance of shallow scars, diminishes fine lines and yields a healthy, vibrant glow. I also use it with galvanic current so that it penetrates deeper into the epidermis to stimulate cells, increase circulation and soften blackheads. This type of treatment can be performed on dry, oily, sensitive, combination and sun damaged skin.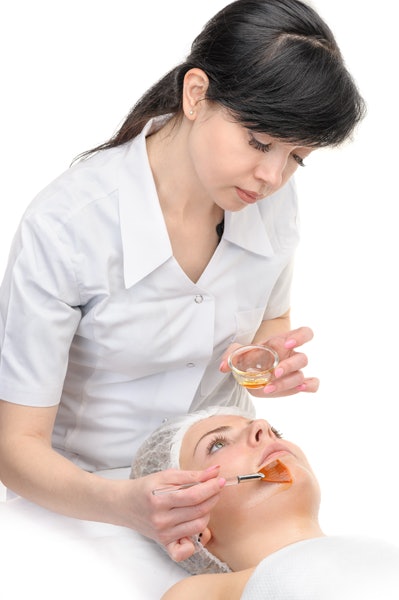 Where does retinol fit into a complete skincare regimen?
Bialko: Retinol should be used at night for maximum safety and efficacy. The molecule is not photostable, meaning it breaks down in the presence of ultraviolet light (reducing its beneficial effects). Additionally, retinol can make skin more sensitive and vulnerable to ultraviolet exposure, so we recommend applying sunscreen every morning to defend against sunburn and hyperpigmentation. When using retinol, apply directly onto clean skin; we don't advise layering it with other treatment products.
Li: The best time to use retinol is before bed, as skin rejuvenates the most while we're sleeping. To reap the full benefit, it should be applied after cleansing and toning, and before any other nighttime moisturizers, eye creams and serums. I always warn guests never to use retinol in the morning to avoid irritation and dryness due to sun exposure.
Deresh: When it comes to home care, it's important to find out all you can about each client's lifestyle and exercise routine, which can affect the potential results or ramifications of retinol use. Are they outside running every day? Do they frequently go without sunscreen? This can influence how you guide your guests. If a client is jetting off to Bora Bora, for example, we always recommend they leave the retinol at home and grab an extra sunscreen product instead. For our guests who use retinol nightly and/ or at higher levels, we advise stopping for a week or two every few months to allow it to be reintroduced to the skin. A good tip is to make sure they're also applying the retinol to their neck and décolleté, as that's an extension of their face.
–by Laura Waldon