There's little doubt that the spa environment is rife with opportunities to both stimulate and soothe the senses. Obviously, the healing power of human touch tends to be a major draw for plenty of guests. But equally important are the sights, the smells, the sounds—and yes, even the flavors—that you provide before, during and after your services. "Stimulating the five senses helps create a unique experience and makes it more memorable for our guests," says Denise Dubois, owner of Complexions Spa for Beauty and Wellness, with locations in Saratoga Springs and Albany, New York. "It also triggers the emotions they felt exclusively at our spa." Here, we look at some innovative ways that spas around the country ensure their clients are completely engaged.
1. Design to soothe. Everything your clients see when they walk into your spa makes an impression, from the lighting to the layout. This visual presentation is one key to eliciting the desired emotional effect—in most cases, a state of total relaxation. That's why both Complexions locations have a color palette of warm, natural tones, and a curved, flowing floor plan devoid of sharp lines or angles. This all serves to create a more organic, serene environment, according to Dubois.
Meanwhile, the décor at Modrn Sanctuary in New York City includes abstract paintings that were created by artists while under hypnosis, which resulted in a free-flowing aesthetic, according to owner Alexandra Janelli. "It's just one more way to stimulate the guests' sense of sight," she says. And, unlike a lot of spas, the walls at Modrn are black. "I've found dark rooms to be soothing, and I wanted to play off the sensory deprivation," explains Janelli. "People say they feel calmer—there's less for them to do with their eyes."
Light and color therapy can also be incorporated into services, as with Modrn's Sensory 7 Light Sound Energy Therapy (30 min./$45; 45 min./$60). During the immersive wellness experience, LED lights generate a complete visible spectrum, with each color emitting a specific vibrational frequency that's intended to help alleviate different physical symptoms, helping the body to reestablish its natural balance.
RELATED: Expert Strategies for Soothing Dry Skin
2. Have a listen. The healing benefits of sound and music therapy have been well established. In a Journal of Evidence-Based Integrative Medicine study published in September 2016, test subjects reported significantly less tension, anger, fatigue and depressed mood following sound meditation with Tibetan singing bowls. Meanwhile, a meta-analysis of 400 studies (Trends in Cognitive Sciences, April 2013) found that music improves the body's immune system function and lowers stress, and that it's more effective than prescription drugs in reducing anxiety prior to surgery.
No wonder relaxing music, as well as the soothing sounds of waterfalls, rain, chimes and gongs, tend to be mainstays at most spas. For instance, guests at Complexions can choose the music they want to accompany their services from three different channels, depending on the state of mind they'd like to be in. "One might be classic spa Zen music, and another might be instrumental," says Dubois. The Tranquility Pro-Sleep massage (50 min./$115) at Glen Ivy Hot Springs in Corona, California, on the other hand, is accompanied by the sound of a heart pulsating at a steady 60 beats per minute and tones without melody or harmony. This encourages guests to clear their minds and relax completely, says Glen Ivy massage therapist trainer Brad Jensen. Similarly, during Modrn's Sensory 7 Light Sound Energy Therapy, clients listen to binaural beats—sounds played at two specific frequencies that have been shown to balance the mind and deepen relaxation. "It helps to get guests into a hypnotic state," says Janelli.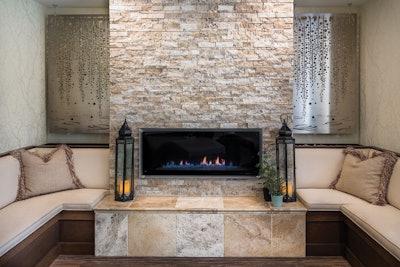 3. Make scents. There's a reason aromatherapy is ubiquitous in the spa setting—scent is deeply tied to emotion and memory, and studies have demonstrated that specific ones, such as lavender and citrus, can help address anxiety and sleep problems (Holistic Nursing Practice, November/December 2018), as well as ease depression (Journal of Alternative and Complementary Medicine, July 2018), premenstrual emotional symptoms (Journal of Alternative and Complementary Medicine, June 2017) and more.
At Complexions, aromatherapy is customized for guests in a variety of ways. Prior to the Aromatic Alchemy massage (60 min./$139), for example, clients begin by answering a short questionnaire about their preferred scents and desired outcome (e.g., stress relief) using an iPad app, which then prescribes a custom-blended oil that's used during the service. "We wanted to personalize the massage experience, and the body is naturally drawn to what it needs," explains Dubois. The spa also worked with a master botanist to develop three signature scents: Ease, Serenity and Uplift. Guests are invited to select from one of these options, which is then incorporated into their massage service. Likewise, at Glen Ivy, there's a smelling ritual at the beginning and end of the Tranquility Pro-Sleep massage, during which therapists have guests inhale a specific blend of essential oils designed to calm the mind and body.
RELATED: Spa Services That Undo the Effects of Too Much Screentime
4. Give them all the feels. The power of touch cannot be underestimated. Among the long list of studies, one recently found that when cancer patients had just one session using healing touch or oncology massage, they experienced immediate pain relief (Journal of Alternative and Complementary Medicine, September 2018), while another determined that Swedish massage relieved anxiety in Intensive Care Unit patients immediately and 30 minutes post-treatment (Journal of Bodywork and Movement Therapies, July 2017).
The Tranquility Pro-Sleep experience at Glen Ivy is not a traditional massage with deeper tissue work or kneading—instead, the therapist employs a lighter touch, applying oil to the guest's abdomen and limbs using brushes and slow strokes. "Every client falls asleep when I perform this service," Jensen says. "They wake up and are groggy, but then get a burst of energy like they've had a power nap." During the Sensory 7 at Modrn, the client lies on an infrared biomat containing two transducers that vibrate in sync with the binaural beats, which is purported to help the body heal and realign. The infrared rays produce heat that warms the amethyst and tourmaline crystals contained within the biomat, all of which is designed to produce negative ions that increase cellular metabolism, promoting vitality and reducing inflammation.
5. Please the palate. Food and drink possess formidable healing properties—but according to some ancient forms of medicine, such as Ayurveda, actually tasting our food is critical to maintaining a healthy mind, body and spirit. For optimum balance, Ayurveda suggests that each meal should be comprised of six tastes: sweet, sour, salty, pungent, bitter and astringent. Based on just such a principle, the Tranquility Tea served at Complexions contains warming flavors of cinnamon, ginger, orange peel, fennel and cardamom. It's the best-selling retail item at the spa, but Dubois gives it away to first-time customers. "We hope that the tea reminds them of their experience when they drink it at home," she says. With four different food and beverage locations on site, Glen Ivy follows a farm-to-table philosophy. In fact, the resort grows a wide variety of fruit—oranges, lemons, avocadoes, persimmons and grapefruit—in its own gardens, ensuring all flavors are at their freshest. "I approach the menu by taking dishes that everyone is familiar with and giving them a healthy spin. I want guests to enjoy the food without feeling guilty afterwards," says executive chef Chris Hartman. There are various options for different diets, e.g., vegetarian and vegan, and meals are always made to order.
– by Amanda Baltazar
This story first appeared in the February issue of Dayspa magazine. To receive the magazine, click here to subscribe.
How to engage all five of your guests' faculties and deliver a more meaningful spa-going experience.