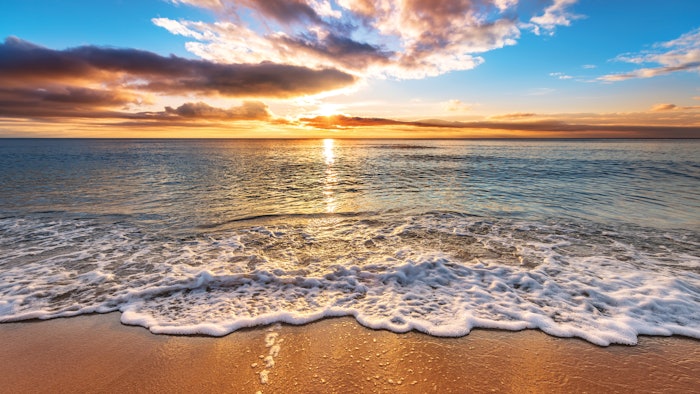 Over the last decade, beauty has been moving from green to blue. The green beauty movement brought us organic products with a local supply chain that widened our view. Blue beauty specifically supports ocean conservation actions to protect marine ecosystems and enhance biodiversity. It does this by focusing on marine-safe ingredients, zero-waste packaging and direct conservation actions to save our seas.
Environmental health and human longevity are tightly bound in today's consumer market. It's common knowledge that, as a species, we can no longer ignore our footprint. Everyone is keenly aware that our planet is begging us to act now and move at light speed.
As an ocean activist, I already know that the blue movement does not start at the water's edge. A healthy ocean requires a healthy planet with woke inhabitants. Everything we do impacts the ocean, so we must work to restore, rejuvenate and mitigate our footprint as a lifestyle choice. My "blue dream" includes healthy oceans, clean air, a cool planet and a blissful future inclusive to every species for generations to come.
Going Blue
The beauty industry can offer so much more than effective products in pretty packaging. It is up to us to drive change through creative innovation and swift, effective action. What we need most is a common understanding that the solution to saving our planet must involve a new lifestyle that takes into account all we consume, produce and discard. It is time for everyone, everywhere, to put their money where their common concerns are.
The green movement made us aware of our impact, creating in us a collective desire to be "less bad" and to look at ways mindful brands can protect the planet, drive awareness and demand transparency. The blue movement takes us into the next stage of mitigating environmental impacts due to decades of careless consumption and wasteful production. Going blue means restoring, revitalizing and rejuvenating.
Continue reading about the blue beauty trend in our Digital Magazine...
Antoinette Marquez, a thalassotherapist and ocean conservationist, has fused together an emphasis on self-care with healthy oceans through PharmaSea and Ama Sea Beauty. Skin care brand Ama Sea Beauty was developed to be part of the blue economy by offering ocean stewardship through responsibly developed consumer goods.