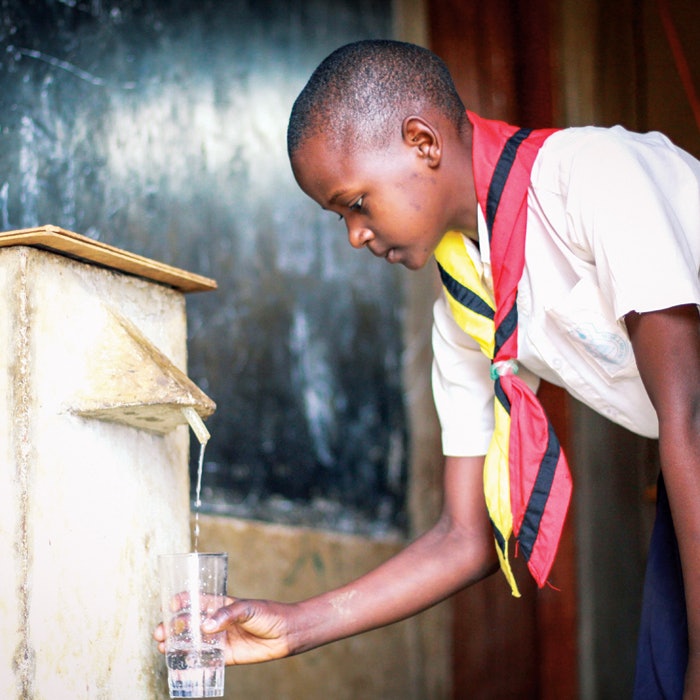 Philanthropy isn't just good for the soul; it's smart business. According to a study by Project ROI, companies that participate in charitable endeavors strengthen their reputations, reach a larger client base, and engage and retain employees. As a spa owner, you may be interested in starting your own compassionate efforts or partnering with vendors that have established philanthropic programs, broadening your impact and reach. To get started, below are five companies and the charities they support.
The Brand
:
Aveda
The Organization
: Global Greengrants Fund
The Cause: The Global Greengrants Fund directs grants to regions where water is scarce or threatened, and since 1999 Aveda has dedicated Earth Month (April) to raising funds for the organization. The brand donates proceeds from sales of its Earth Month Light the Way Candle, and much of that money benefits the communities from which it sources its ingredients.
So far, Aveda and its spa/salon partners have raised more than $14 million. "We chose to support Greengrants because of its authentic, grassroots approach to finding communities in need of support that may otherwise go unnoticed," says Melissa Chelminiak, director of mission, partner and stakeholder engagement for Aveda Earth and Community Care. "A small amount can make a huge difference in a rural village. The natural world is the source of the raw materials for Aveda products, and we believe that protecting these limited resources is our responsibility."
The Brand
:
Jane Iredale
The Organization
:
Living Beyond Breast Cancer
The Cause: Each October for the last 10 years, Jane Iredale has donated 100 percent of profits from one specific product to Living Beyond Breast Cancer, which provides breast cancer education and support to those affected by the disease. This year, profits from the brand's Magic Mitt will be donated. "We support LBBC because of its commitment to help all individuals touched by breast cancer, whether they are diagnosed or supporting a loved one," says Jane Iredale, founder and president of Iredale Mineral Cosmetics. "The organization makes it possible for these people to maintain quality of life during the most challenging times; it supports families holistically, understanding that the disease impacts all areas."
To date, the company has raised more than $477,000, including sales made by spa partners. "Last year, LBBC was able to deliver 60,000 of its guides to understanding breast cancer at no charge to the families who needed them," adds Iredale.
The Brand
:
Éminence
The Organization
:
Éminence Kids Foundation
The Cause: In 2014, Éminence launched the Éminence Kids Foundation, donating a portion of the brand's proceeds to provide organic meals to children struggling with illnesses. The inspiration came from company president Boldijarre Koronczay, himself a survivor of childhood leukemia, who started the foundation to help children experiencing similar hardships.
Collaborating with hospitals and clinics in locations around the world, the foundation sends organic fruits, vegetables and cold-pressed juices to young patients in need. Spas can take part by donating time or resources to local care facilities, and some hold fundraising events and organize raes to raise money. "We've served more than 48,000 meals to date," shares brand spokesperson Jessica Timberlake.
One recipient was Krisztina, who was being treated at a clinic in Budapest, Hungary, for neuroblastoma (a type of cancer). With healthy nutrition complementing her medical treatment, Krisztina made a full recovery. "Her energy levels are back, and she even won a medal in a kids' duathlon where she swam and ran," says Timberlake. "She couldn't have done that a year and a half ago."
The Brand
:
FarmHouse Fresh
The Organization
:
Dog Bed Fairy
The Cause: FarmHouse Fresh started the Dog Bed Fairy initiative in 2015 as an effort to provide shelter dogs with a soft place to sleep. In the U.S., more than four million dogs enter shelters each year, and many sit and sleep on cold, damp concrete floors while they're awaiting a home. Delia McLinden, vice president of sales at FarmHouse Fresh, heard about a local shelter volunteer who was raising money and awareness by sleeping outside on the concrete in the winter to simulate what these animals feel. "We wanted to help," she says. "We took the funds we had set aside for client holiday gifts and instead bought dog beds for that shelter and a handful of others."
Since then, the company has expanded the program by publishing the book Is It True They Call You the Dog Bed Fairy?, which can be sold in spas' retail areas; proceeds provide beds to shelters across the country. The brand has given over $55,000 worth of beds to shelter dogs in need thus far. "It's a fact that animals are happier when they're more comfortable in their surroundings, which makes them more adoptable and more likely to find a forever home," adds McLinden.
The Brand
:
iS CLINICAL
The Organization
: iS CANCER CARE
The Cause: A long time supporter of cancer charities, iS CLINICAL launched the iS CANCER CARE Spa Day Program in 2013 to help its spa partners give back within their own communities. To date, more than 200 partners have received extensive training on the most common side effects and precautions for clients undergoing cancer treatment and are iS CANCER CARE Certified. "These patients' immune systems are compromised, so special steps must be taken with any spa service they receive," says Sandra Adams, global clinical educator at iS CLINICAL. "Our iS CANCER CARE certified partners offer skincare consultations, education and specialized Harmony Facial Treatments year-round to cancer patients."
In addition, iS CLINICAL provides spa partners with iS CANCER CARE Spa Day event kits, so they can host a day of pampering and education for cancer patients at a reduced fee—or no charge at all. "The Harmony Facial Treatment is eye-opening for those who have never had a professional facial, let alone one specifically designed to meet the needs of active treatment cancer patients," says Adams. "These clients truly appreciate the chance to learn what is happening to their skin and how they can take better care of it."
–by Stephanie Vozza