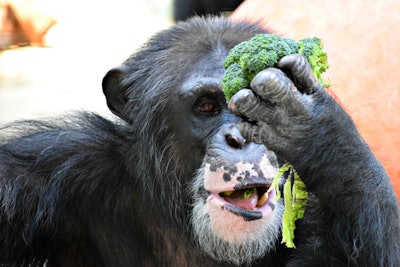 The cruelty free cosmetic company and fitness expert bring attention to Primary Primates Incorporated.
Intelligent Beauty is a message that fitness expert Tracy Anderson and Ecco Bella want to introduce to the world. Ecco Bella was founded out of protest to the use of animals; showing compassion and respect for all living beings on the planet is their reason for existence. In an effort to spread compassion, Ecco Bella gave Tracy Anderson a year's sponsorship of Nicole the chimp through Primary Primates Incorporated.
Primary Primates Incorporated, a non-profit sanctuary in Texas, is helping to raise awareness, care and rehabilitate various non-native animals on October 4th, Great Apes Giving Day. Many of the animals are cast-offs from biomedical research institutions and the pet trade. Currently there are 400 animals, 43 birds and chimpanzees residing in the sanctuary and it focuses primarily on caring for apes and monkeys.
Ecco Bella founder Sally Malanga started her company because of her disgust with the use of animals for product testing, and with respect for the wonder of nature and she jumps on any opportunity she can to use her voice to help animals of the world. "The roots and mission of Ecco Bella and its founder Sally Malanga are completely nothing short of inspiring," says Anderson. "The ability to give back through cruelty free makeup and Primary Primates Incorporated is what makes this company truly unique."
Great Apes Giving Day will support more than 30 qualified sanctuaries and rescue centers providing rehabilitation or long-term care for great apes and gibbons throughout Africa, Asia, and North America.