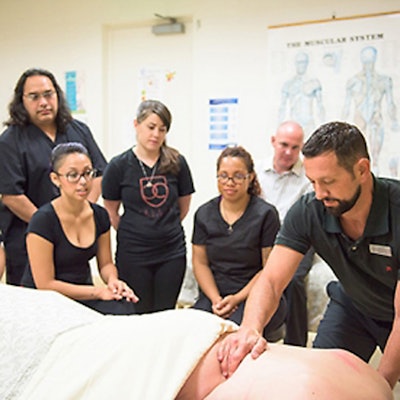 The first beauty and wellness academy in the US to offer the curriculum, Bellus Academy will launch the Wellness for Cancer program on September 1, 2016.
Bellus Academy is partnering with Wellness for Cancer, a 501c3 organization that trains and equips spa professionals to provide safe, nurturing massage therapy services to individuals who are undergoing treatment for cancer or are recovering from cancer. As the first beauty and wellness academy in the nation to offer the Wellness for Cancer curriculum, Bellus Academy is preparing estheticians and massage therapists to serve a very significant segment of the population — the National Cancer Institute has reported that one in two men and one in three women will develop invasive cancer during their lifetime.
While wellness approaches such as meditation, yoga and nutritional programs are becoming more available, many spa policies require estheticians and massage therapists to turn away clients with cancer. Such policies often stem from industry myths surrounding massage spreading cancer, according to Joanne Berry, global educator for Wellness for Cancer. "We are honored to have secured the support of The Global Wellness Institute and have worked with individuals from renowned cancer care organizations," said Berry, noting that Wellness for Cancer co-developed the initial massage course with the University of Colorado's Integrative Medicine Department under leading oncology and massage researcher Dr. Lisa Corbin, MD. "Spas serve as sanctuaries of comfort and massage therapy can be a comforting and restorative part of an individual's wellness regimen during the cancer journey."
Through hands-on, online and case study modules, the 50-hour Wellness for Cancer curriculum provides massage therapists with knowledge and techniques to safely, confidently and compassionately offer comfort-oriented massage therapy to clients with various stages of cancer or who are recovering from cancer. Students learn pressure restrictions, site restrictions and position restrictions as well as modalities beyond touch massage. The psychology and physiology elements of cancer are also addressed along with the side effects and emotions that may accompany cancer treatment.
Wellness for Cancer education dispels the myth of cancer as a contraindication to massage. "There has long been misinformation in our industry that massage spreads cancer," said Berry. "There is a plethora of evidence that supports the benefits of massage for cancer patients and survivors, all collected and documented by the medical community. It is as if the spa industry is the last to step up and understand our complementary role. Working with cancer professionals around the globe, Wellness for Cancer is effectively debunking these myths and offering the comforting and nurturing benefits of massage to cancer patients and survivors."
Bellus Academy will launch the Wellness for Cancer program on September 1, 2016. As the first beauty and wellness academy to offer Wellness for Cancer Training, Bellus Academy worked closely with the Wellness for Cancer team to develop custom-modules that address the ongoing educational needs of massage therapists and estheticians throughout their careers. "Individuals who work in the spa and wellness industry have an innate desire to nurture, care and comfort those they serve. In fact, many of the massage therapists and estheticians we train previously worked in the health care sector," said Lynch. "We are honored to partner with Wellness for Cancer in offering this educational program to the esthetic and massage therapy community."
For more information, please visit bellusacademy.edu.