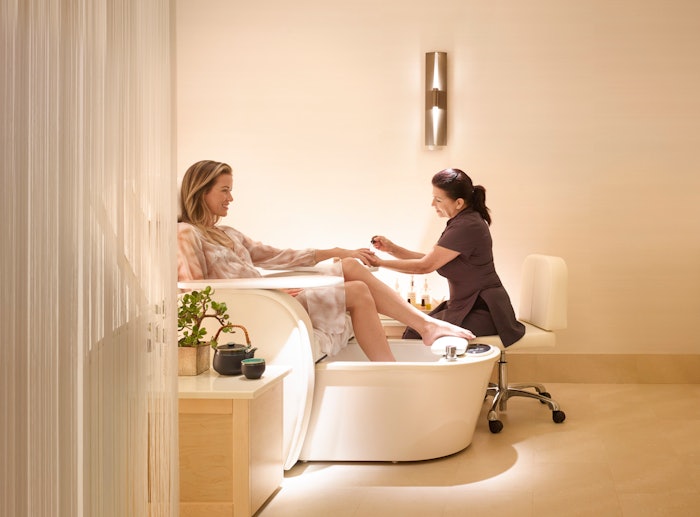 Courtesy Four Seasons Resort Lanai
The Hawanawana Spa at Four Seasons Resort Lanai has launched a new Sound of Color treatment, featuring nail services and meditation.
The treatment can either be 60 or 90 minutes long. Using SPARITUAL nail polish, a treatment provider will pair nourishing minerals, an organic sugar scrub, organic cuticle care and a soothing massage to help guests achieve full relaxation.
SPARITUAL polish is made with argan oil, seaweed extract and red tea. It is a breathable vegan polish formula, that is a color and treatment for nails.
Each of the 72 colors is paired with a suggested meditation, or guests can choose their own meditation theme or style, paired with their preferred polish hue, connecting to the customized web app and tuning in on a set of comfortable headphones.
Example colors include Eternal Wellness (blue tone) incorporating a Balance & Flow Meditation for gentle movement to de-stress and feel more connected and balanced, Wild Natured (red tone) with a Rockstar Meditation giving a boost of energy.
"While the concept of color psychology, or links between color and moods, may be more anecdotal than evidence-based, many cultures have incorporated it in healing practices. The curated list we offer at our Spa encompasses these ideas, for example warm tones of red such as Wild Natured may stimulate and evoke energy with a meditation entitled Rockstar Meditation that makes you feel ready to dive in and take on your day. Cooler shades of blue, such as Eternal Wellness incorporate a Balance & Flow meditation that includes some gentle movement to help you dissolve stress and feel more connected and balanced. In experiencing this more relaxing take on a nail salon service for myself, I have found that the shade of polish I choose on a particular day has a beautiful, guided meditation with the spoken portion being exactly what I needed to hear and think upon. It's too hard to choose only one favorite!" said Jessica Candy, Hawanawana spa director.