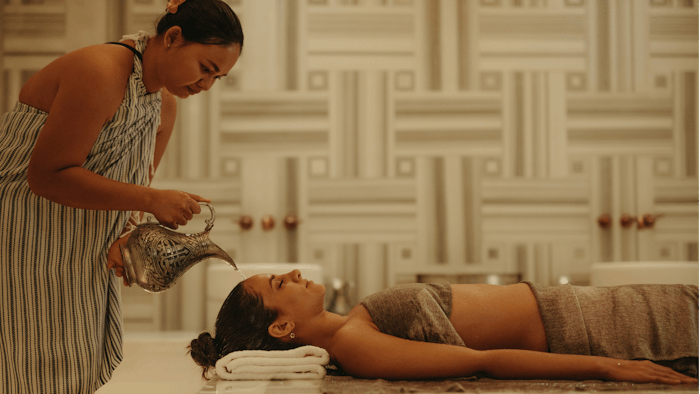 Courtesy of JOALI
With the world returning to "normal," self-care and wellness activities and treatments are on the rise. From body services, facials, healing energy work, massages and more, check out these treatments from around the world to inspire your own offerings.
1. Hypno-Health
At Spa Aiyana at Carmel Valley Ranch in Carmel, California, guests can indulge in a seasonally-inspired massage treatment followed by Hypno-Health: Wellness for Mind & Spirit. After the massage, in-house hypnotherapist Dr. Bee Epstein Shepherd performs a hypnotherapy treatment aimed at reducing stress and anxiety while teaching the client to manifest a calm and clear mindset. Dr. Shepherd will also teach guests self-hypnosis techniques to take home and will provide them with a recording of the session for reinforcement.
2. Skin Transformation Ritual
The Skin Transformation Ritual at Spa Edgewood in Lake Tahoe merges three technologies into one. The experience begins with the exfoliating Hydrafacial, followed by warm Lightstim LED light therapy to rejuvenate and repair skin at the cellular level. Meanwhile, the esthetician applies a restorative collagen glove treatment to the hands and feet. Finally, the client receives an Intraceuticals infused oxygen treatment, featuring a targeted cocktail of actives that plump and refine the complexion.
3. Inner Strength Resilience Massage
Espa Spa at JOALI in the Maldvies offers the Inner Strength Resilience Massage, also called The Butterfly Journey, that releases muscular tension and brings a renewed sense of well-being and clarity to the mind, thanks to aromatherapeutic formulas, yogic stretches and deep muscle work. The treatment is ideal for clients looking to transform mind and body, support the immune system and boost energy levels.
4. Diamond Rose Ritual
Spa Marquis at Marquis Los Cabos in Mexico features the Diamond Rose Ritual, which uses Natura Bisse's Diamond Rose line crafted with Moroccan Damask rose extracts. The rose oil provides anti-aging, anti-stress and antioxidant properties. The treatment starts with a Diamond Rose Scrub exfoliation and Rose Mist, before adding the Diamond Rose Oil and Rose Touch massage. The treatment is finished with an application of SPF 50 to protect the skin.