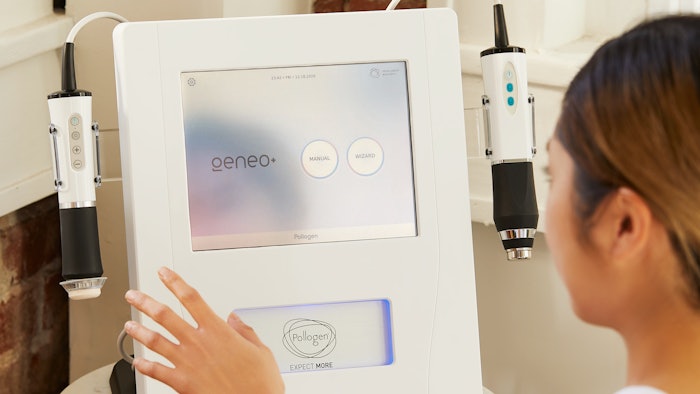 Courtesy of Geneo
Geneo, a recently launched facial treatment machine, offers four treatments options:
Balance
Revive
Illuminate
Hydrate
Each treatment includes three tenets of face rehab: exfoliation, oxygenation and nourishment, designed to achieve younger, brighter and better-looking skin. 
Geneo is customizable for all skin types, ages and skin concerns. The treatments feature a patented oxygenation protocol thanks to the use of Oxypods that attach to the handpiece and are infused with actives. The treatment triggers the body's natural, physiological process to increase oxygen levels, address signs of aging, smooth and refine skin texture, deliver brighter and fresher skin tone, increase circulation and elevate skin's metabolism. 
Balance Facial: Best for oily, acne prone skin, the Oxypod ingredients include bamboo charcoal to absorb dirt and debris, camu camu to lighten age spots and mandelic acid to smooth skin texture.
Revive Facial: Best for addressing signs of aging and increasing skin firmness, this Oxypod features red algae to promote skin moisture and elasticity, caffeic acid to prevent premature aging, ferulic acid to prevent skin damage and retinyl palmitate to improve overall skin texture.
Illuminate Facial: Best for evening out skin tone and reducing hyperpigmentation, this treatment uses kojic acid to fade dark spots, opuntia fruit extract to soften skin, vitamins and alpha-arbutin to even skin tone, and carrot extract to promote cell regeneration.
Hydrate Facial: Hydrate's Oxypod contains blue spirulina, which brings together high-quality protein, a concentration of vitamins and gamma linolenic acid that instantly hydrate skin. The treatment also features lactobionic acid to enhance hydration and encourage firmer skin, Ayurvedic swertia chirata and tiger grass to stimulate microcirculation.