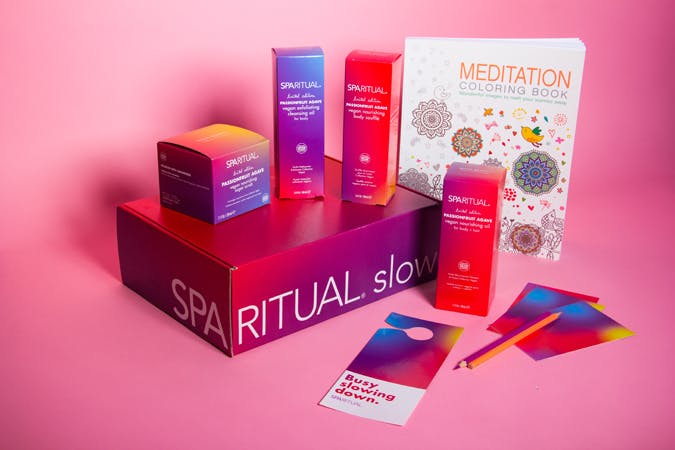 This Slow Beauty Box features new SpaRitual Vegan Body Collections and items for your Slow Beauty practice.
SpaRitual introduces the new Slow Beauty Box featuring SpaRitual body products, as well as tools to develop a personalized Slow Beauty practice. The box is available for purchase on a bi-annual basis and can be bought separately, or as part of a discounted subscription-based model.
RELATED: Blooming Lovely Why Rose Is a Skincare All-Star
The first box is themed to Spring/Summer and will feature the new limited edition Passionfruit Agave body collection, which is infused with blue agave, Certified Organic goji berry extract and Certified Organic pomegranate extract. The collection includes Nourishing Sugar Scrub, Exfoliating Cleansing Oil, Nourishing Body Soufflé and Nourishing Oil (for Body + Hair). In addition to the complete Passionfruit Agave body collection, the box will feature engaging tools to live a Slow Beauty lifestyle, including a mindful coloring book, intention-setting cards, and a meditation door hanger. The second box will be distributed in Fall 2017 and will feature the Fall/Winter SpaRitual limited edition body collection, which has yet to be announced.
"The Slow Beauty Box is a wonderful introduction to the Slow Beauty philosophy, it features self-care tools with our joyful new Passionfruit Agave body collection," said Shel Pink, SpaRitual and Slow Beauty Founder. "The box features a mix of items to create your own personalized  slow beauty practice, which could include self-massage, meditation and intention- setting rituals."
RELATED: Treat Your Loved One with a Valentine's Day Spa Package
The box will be available at SpaRitual.com beginning February 23, 2017. Each box can be purchased separately at full price, or purchase two seasons and receive up to a 33% savings. This season's box is priced at $140.00.