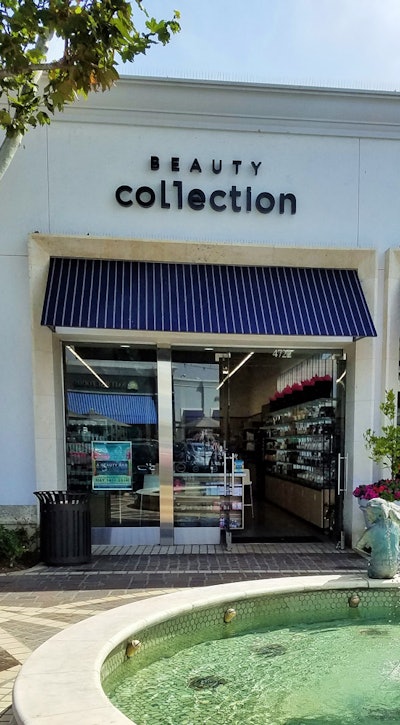 DAYSPA recently checked out the Marina del Rey outpost.
First impressions: Beauty Collection's MDR location is nestled in an outdoor shopping center facing the California coast. But I wasn't just there to peruse the rows upon rows of beauty products (and then hit the beach); I'd be receiving a facial—not widely offered at retail boutiques—and I was intrigued.
I was greeted by the store's facialist, Lucy, who walked me to a near-invisible room tucked away in the far back of the store. Modestly appointed with just the necessities, this little retreat immediately made me forget that we were in the middle of a bustling shopping center: I couldn't even hear what was going on in the retail area that was literally a few feet away, which instantly had my shoulders relaxing.
The service: After a consultation during which we discussed my sensitive skin, Lucy landed on the Natura Bissé Deep Exfoliating Facial (60 min./$150), something my skin desperately needed after a summer full of travel, pool days and 120-degree heat! She began with a three-step glycolic peel—my favorite part, as I loved the bubbly, slightly spicy sensation once activated—followed by a peptide therapy regimen, which Lucy assured me was formulated to deeply penetrate my skin.
She finished with a hydrating and soothing algae face mask; it also covered my eyes and mouth, which rarely get to receive that kind of serene TLC. The mask had to sit for 20 minutes, and I could feel it cooling my skin while Lucy massaged my scalp, neck, shoulders, hands and arms. It was so calming (to all of my senses) that I almost fell asleep!
After the 20 minutes were up, Lucy removed the mask and the facial was concluded (alas!). I wanted to take advantage of this Beauty Collection's beach location, so after a hefty application of SPF, she sent me happily on my way for a seaside stroll!—Laura Beliz