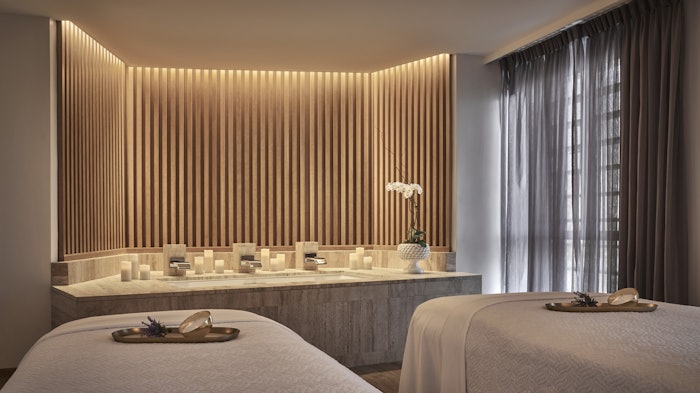 Photo courtesy of The Spa at Four Season Hotel New Orleans
The Spa at Four Seasons Hotel New Orleans announced the addition of the all-natural skin care line, Seed to Skin Tuscany, to its highly curated menu of offerings.
Seed to Skin Tuscany's treatments are both biologically pure and scientifically tested, utilizing the abilities of sustainably sourced wild botanicals to deliver cell regeneration and skin rejuvenation. The Spa at Four Seasons Hotel New Orleans is one of only nine hotels in the U.S. to offer Seed to Skin Treatments. 
"As the first spa in Louisiana to feature acclaimed French brand Biologique Recherche, our legacy of excellence is fortified by the introduction of another world-class product line, Seed to Skin Tuscany," says Mali Carow, General Manager for Four Seasons Hotel New Orleans. "A balanced complement to our results-driven treatments, Seed to Skin Tuscany's natural skin care offers a soothing spa experience of being enveloped in a cocoon of nourishing botanicals."
Seed to Skin Tuscany Founder, Jeanette Thottrup, sought to find harmony between nature and technology, utilizing advanced science to deliver high performance raw materials to the skin, generating healing from within. Sourced from their organic Tuscan farm or select environmentally friendly micro-producers, Seed to Skin Tuscany's natural ingredients are transferred to a laboratory where the most potent elements are extracted using Green Molecular Science. 
Related: Four Seasons New Orleans Opens Spa with Biologique Recherche
 Seed to Skin Tuscany Treatments
The Awakening Body Ritual: This skin renewing body treatment harnesses the power of mineral rich raw sea salt, spirulina, shea butter and essential oils to stimulate circulation, detoxify and gently remove dead skin cells. The personalized application of warm, deeply restorative probiotic body balm will further release tension, soothe and nourish.
The Equilibrium Body Ritual: This multi-sensory experience begins with gentle body brushing to energize the lymphatic system, followed by a thermal mud applied to the back, relieving tension and recharging the body with marine minerals. A warm candle massage, rich in nourishing oils and natural extracts of vanilla, rose and oud wood complements the ritual, leaving the body, mind and spirit balanced.
Seed to Skin Tuscany Facial Rituals: Relaxing and completely customized, the Seed to Skin Tuscany Facial Rituals promotes cell regeneration, helping to firm and oxygenate the skin and create a youthful glow. The high touch treatment uses a molecular delivery system to soak handcrafted formulas deep into the skin to stimulate cellular renewal. Lasting 80 minutes, this extended facial includes invigorating massage techniques with a warm gua sha stone that will leave the skin visibly brighter, radiant and lifted.