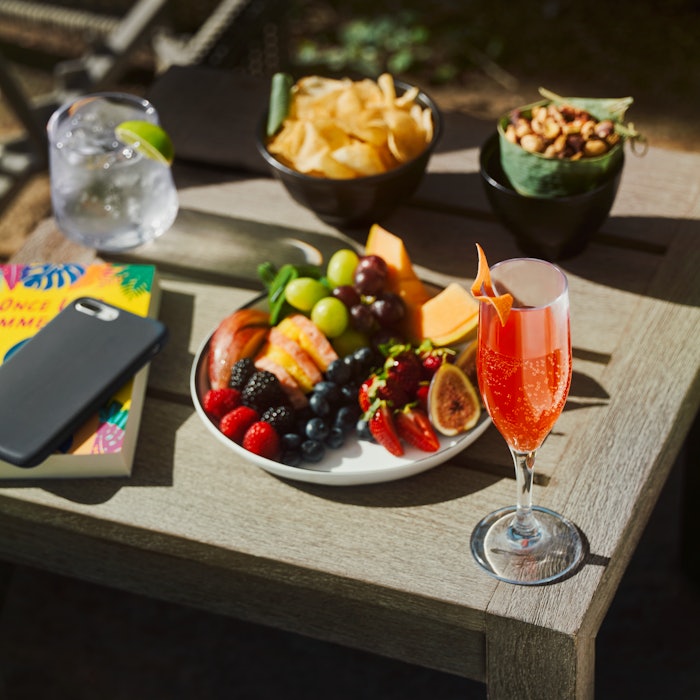 Photo Courtesy of Sensei Porcupine Creek
Sensei Porcupine Creek has introduced a non-alcoholic cocktail menu in addition to their lineup of classic Nobu cocktail favorites. The new menu features four beverages made with alcohol substitutes from Lyre's, one of the world's leading non-alcoholic spirits brands. Other unique luxury amenities at Sensei Porcupine Creek include the Sensei by Nobu culinary cuisine and a new spin on minibars.
Related: 7 Trends Changing the Scope of Wellness Amenities
The non-alcoholic menu includes Sensei's take on the traditional spritz and a gin and ginger, as well as the property's signature welcome beverage - the Coco Shiso, which features coconut water, agave syrup, yuzu juice and shiso leaves.
Sensei by Nobu is an exclusive collaboration between world-renowned Japanese chef Nobu Matsuhisa and Sensei co-founder, Dr. David Agus. The experiences are rooted in the philosophy of the Sensei Way, which distills preventive health science, data and research into three simple paths for everyday living: move, nourish and rest. Sensei's team of expert guides and practitioners work closely with guests to create a personalized and actionable guide to nutrition that is unique for each guest while they are on their well-being journey. 
At Sensei by Nobu, guests can indulge in a personalized Omakase inspired by the rhythm of Kaiseki, which is a traditional multi-course Japanese dinner. The initial courses kindle the appetite with notes of vinegar, citrus, salt and refreshing chilled dishes. The intentional introduction of fats, warmth and deliberate portion sizes are all delivered at specific times to control the cascade of hormones. During the courses, the sushi chef, acting as a culinary guide, checks in to ask what the guests ate the previous night and for them to rank their hunger, allowing the chef to adjust the portion size, flavors and preparation methods accordingly to help shape the dining experience.
Guests won't find the traditional hotel minibar at Sensei, but rather an elevated and updated twist on the classics curated through a wellness lens. Sensei stocks its minibars full of snacks reminiscent of traditional sweet and salty favorites but with more mindful ingredients and nutritional benefits such as Justin's dark chocolate peanut butter cups, Made Good granola minis, Oloves and lentil chips.
Check out the recipe for Sensei's Paloma Spritz below!
Sensei's Paloma Spritz:
1.5oz Italian Spritz (Lyre's Aperol)
.5oz Grapefruit Juice
.25oz Simple Syrup
Shake and pour into a flute glass. Top with Lyre's Classico Prosecco. Garnish with a grapefruit peel (decorative).