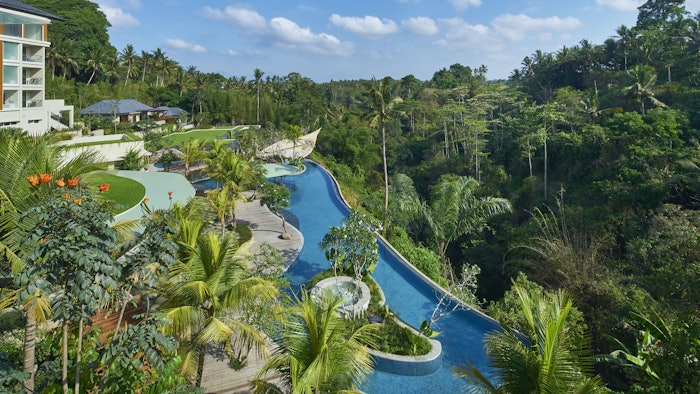 Courtesy of Westin Resort & Spa Ubud, Bali
More and more holistic wellness destinations are opening their doors, offering innovative, unique and nature-based treatments that address guests' whole health and well-being. Here are four new properties; let's get inspired!
1. Dusit Thani Tianmu Mountain, Hangzhou
Thai hotel developer Dusit International has opened its 11th luxury property in China: Dusit Thani Tianmu Mountain, Hangzhou. Nestled in the natural surroundings of Tianmu Mountain, the new property is designed as a welcome escape from city life.
The resort has 160 villas and guest rooms just outside the Tianmu Mountain National Nature Reserve, a UNESCO Biosphere Reserve containing towering trees, beautiful valleys and picturesque mountain peaks, in addition to great weather and various protected animal species.
Dusit Thani Tianmu Mountain, Hangzhou's expansive wellness center, Dusit Wellness, features hot aromatherapy pools, an outdoor swimming pool, a gym and the Namm Spa. Guests can enjoy a variety of spa experiences, signature therapies and skinare treatments. 
Guests can also take advantage of a special wellness food menu, featuring many healthy dishes. Then, they can immerse themselves in nature with guided hikes of Tianmu Mountain, and learn about local culture and sustainability in curated workshops at the Tianmu Mountain Nature Centre.
Related: Nurturing Well-Being with Nature
2. Spa Viata at Hotel Granduca Austin
Hotel Granduca Austin has debuted Spa Viata, which is now offering holistic treatments inspired by nature, aromatic steam rooms and sea-inspired bathing.
Spa Viata features a variety of organic and sustainable skin care lines from around the world. It has eight treatment rooms, with a couples treatment suite and private spa suite, which includes a hydrotherapy tub and experiential rain shower.
The spa menu is complemented by amenities like the relaxation lounge, men's and women's locker rooms, steam room and sauna. Exclusive treatments include:
The Viata | Body: Inspired by the scents of the Mediterranean, this body treatment is comprised of customized massage techniques,  calming aromatherapy, aromatic hot towels and a foot scrub infused with rose essence.
Riviera Scrub: Aiming to holistically addresses each aspect of well-being, this treatment begins with a seawater crystal and algae-derived alpha hydroxy acid scrub. A combination of osteopathic massage techniques and pressure points will then be employed to rebalance the body's energy flow, while mineral-rich oils hydrate and regenerate the skin. 
Amalfi Blue Spa Journey: This experience starts with a personalized Mediterranean-inspired body scrub, tailored with a booster serum. Next, the Calm Waters Massage mimics an ocean wave, and a re-mineralizing bath elevates the therapeutic experience. The journey is completed with a light bite and crisp prosecco.
The new spa is located on the hotel's second floor and is overseen by director of spa and wellness, Allison Williams. 
3. Banyan Tree AlUla
Banyan Tree AlUla hosted its grand opening with an event for dignitaries, VIPs and international celebrities. The invitees came together to discover the new destination, which features private villas and among the beautiful Ashar Valley in Saudi Arabia.
The property embodies Banyan Tree's pillars of sustainability, using locally inspired elements, romance and intimacy to create a private sanctuary for guests. Three key principles are employed to help guests immerse themselves in a multi-sensory wellness experience.
In-villa: Guests get made-to-measure dining, wellness and entertainment experiences, thanks to the talented Banyan Tree hosts.
In-valley: Guests head into nature via outdoor treatments, like massages in secluded caves and sounds baths under the stars.
En-voyage: Guests enjoy immersions crafted with local talents, where they can discover AlUla's rich heritage.
The Banyan Tree Spa is focused completely on physical, mental and spiritual renewal. Its holistic approach blends traditional Asian healing therapies and local Eastern rituals. Guests can also unwind at the tranquil rock pool overlooking the valley.
Related: Banyan Tree Veya Phuket's Secrets to Success
4. The Westin Resort & Spa Ubud Bali
The new Westin Resort & Spa Ubud Bali enhances the guest experience using its Six Pillars of Well-being. The resort features 120 contemporary guestrooms, suites and villas, each equipped with the Heavenly Bed, lavender balms as a bedside amenity, and Heavenly Bath.
The resort offers guests a natural running trail and spa experiences nestled among rolling hills, rice paddies and the winding Wos River. Its dining options are based on Westin's Eat Well concept, made up of local, healthy meals and treats. 
Meanwhile, Heavenly Spa by Westin offers holistic health programming focused on the mind and body. The spa has five treatment rooms, four outdoor spa pavilions overlooking the natural scenery, a Jacuzzi and steam room. The open-air pavilion highlights the stunning natural surroundings, especially for early-risers who partake in morning yoga and meditation classes.