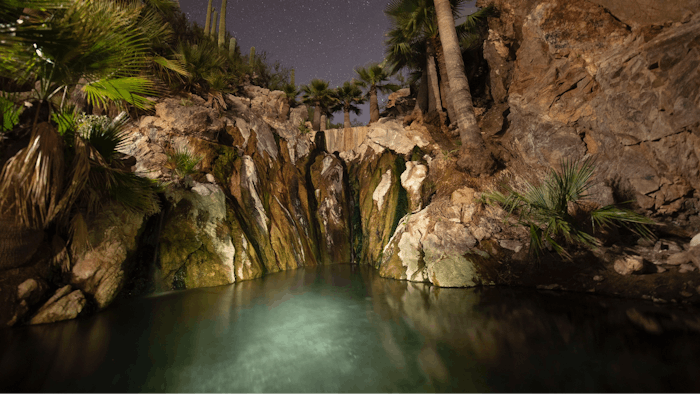 Castle Hot Springs revealed a new, mineral-rich wellness menu that draws inspiration from the surrounding land and healing waters of the natural hot springs. This menu aims to evoke joy, serenity and renewal. 
Each of the property's pools have a unique spectrum of minerals that help ease aches and pains, improve mobility and support skin health. Castle Hot Springs' new menu maximizes the benefits of this mineral mixture with treatments that are conducted in outdoor cabanas that overlook a creek under palm trees.
Related: Castle Hot Springs Debuts Sleep Retreat
Mineral Spring Wellness Treatments
The new wellness menu includes three mineral spring treatments: 
Mineral Scrub & Full Body Massage: This body treatment (90 min./$355; 120 min./$475) nourishes the skin with hot springs minerals. A light mineral scrub exfoliates, then the body is brushed with soothing white clay mixed with mineral water to remove toxins and impurities. The treatment concludes with a relaxing full body massage. 
Sonoran Desert Transformation Body Ritual: This treatment (120 min./$425) starts with a full body dry brushing, followed by a purifying turquoise sage clay wrap featuring lavender, rosewood and wild sage. The light herbal scent provides aromatherapy benefits while a scalp and facial massage is performed. The guest then receives a body massage, a turquoise sage hydrating treatment for the hands and feet, and a reflexology foot massage to stimulate circulation and provide a sense of well-being. 
Seasonal Body Scrub: This farm-to-table full body scrub (60 min./$245) allows guests to choose from house-blended scrubs made on property with fresh ingredients from the farm. Seasonal scrubs can include cucumber, melon, key lime, calendula, citrus, rose and desert lavender. 
Related: An Ayurvedic Experience at Glen Ivy Hot Springs
Mineral Spring Benefits
The new treatments are extra beneficial, thanks to the springs' minerals, including:
Lithium, which helps improve mood and well-being while supporting sleep
Magnesium, which calms nerves and aids in better sleep
Bicarbonates, which ease physical stress and calm the mind
Calcium, which supports muscle function and regulates heart rhythm
Sodium, which soothes joint aches and arthritis
Sodium sulfates, which address skin conditions like eczema, psoriasis and acne 
"As we learn more about our hot springs' waters' healing properties and wellness attributes derived from the minerals, a natural evolution of our wellness program is to further incorporate this unique and rich mineral mixture into new and unique spa and wellness treatments for resort guests," said Castle Hot Springs' general manager, Kevin Maguire.