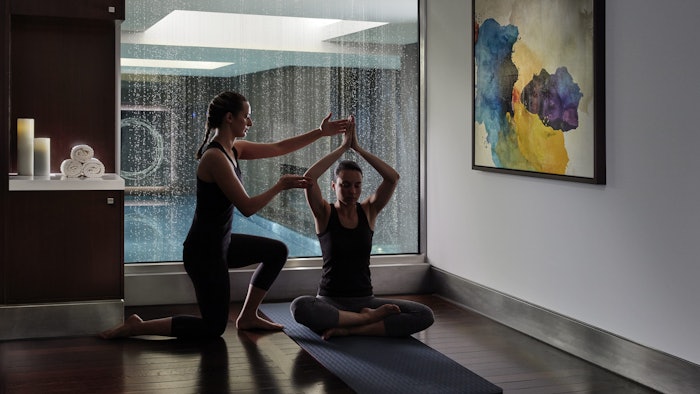 Courtesy of Mandarin Oriental
Another Global Wellness Day (GWD) came and went on June 11, 2022, and there was no shortage of #ThinkMagenta celebrations throughout Rosewood and Mandarin Oriental properties. Here's how these top destinations and spas around the world spent Global Wellness Day. 
Mandarin Oriental, Miami offered guests a complimentary wellness experience at the hotel's beach. The experience began with a 45-minute Open Vinyasa Flow yoga class to stretch and elongate the muscles and increase mobility in the body. The experience finished with a Theragun Massage to assist with muscle tension and relaxation.
Mandarin Oriental, Boston hosted a group run along the Charles River Esplanade, as well as an Intelligent Movement: Postural Therapy Class. Expert Matthew Morin led guided stretching, movements and yoga sequences for postural therapy. Complimentary smoothies were provided after the class.
Mandarin Oriental, Washington D.C. offered health and recovery activities from fitness partner Therabody, and it launched the Intelligent Movement Treatment at the spa. 
Mandarin Oriental, New York, together with Natura Bisse, hosted an online masterclass. Aimed to add positivity, wellness and movement into daily lives, the class focused on the body's largest organ—the skin—and how to make a positive change as skin evolves through changing environments and seasons.
Rosewood Hotels and Resorts provided many unique experiences for Global Wellness Day. A number of resorts released experiential services as a part of Summer Immerse, a property-wide initiative available through Labor Day. The program offers activities that help guests "broaden their horizons and go deeper into destinations around the world, with wellness serving as one of the key pillars guiding the programming." 
Rosewood Baha Mar provides spa treatments focused on engaging a specific element of well-being—the mind, body and soul. The treatments include ancient Bahamian remedies, custom-made detox teas and herbal ointments that balance and create harmony. 
Rosewood Little Dix Bay is offering a rejuvenating 60-minute coconut and pineapple hot stone scrub. This experience brings clients to the island of Virgin Gorda: "The Baths" National Park. Guests are invited to explore the beauty of The Baths' natural sea pools and granite boulders brought to the surface by volcanic eruptions. Following this experience, guests can indulge in an exclusive summer massage. 
Rosewood Hong Kong invites guests on a "Wellcation" that promotes physical well-being and mental clarity. Guests can also experience Asaya's Discover the Advance treatment, which includes a 90-minute EviDens de Beauté facial, complimentary 3D Facial Skin Analysis and a 30-minute radiofrequency treatment. 
Rosewood Inn of the Anasazi offers a "healing through horses" wellness experience where guests will get to connect with the animals at a nearby ranch. This offering seeks to improve stress levels through equine therapy which is known to promote physical, occupational and emotional growth.
Rosewood Abu-Dhabi is offering a yoga class created for the whole family. Depending on the age range, children can explore a variety of yoga-inspired games, stories and activities encouraging them to stay mindful on and off the mat.