Location
: Sanctuary on Camelback Mountain Resort & Spa, Paradise Valley, Arizona
The Lowdown:
Sanctuary Spa at Sanctuary on Camelback Mountain Resort & Spa has unveiled its new look, thanks to a complete refurbishment and expansion by interior designer Lynne Beyer. The intimate retreat features separate women's and men's spas, with a total of 12 indoor and outdoor treatment rooms and a private outdoor treatment room. The Women's Spa has been expanded from 12,000 to 13,200 square feet, with a new quiet space, larger steam room and more seating in the lounge area. The men's spa retains much of its original look, but has received updated furnishings, like ergonomic chaises and lockers with digital locks.
RELATED: On Our Radar – Rosewood Luang Prabang, Luang Prabang, Laos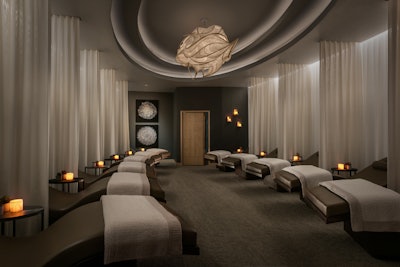 Standout Features:
The Women's Quiet Room, a brand new addition, is a windowless, cocoon-like space, with sculpted ovals suspended from the 11-foot ceiling and an 8-foot-long paper and wood light fixture by artist William Leslie. Sheer panels allow for privacy between the 12 chaise lounges, each of which has its own side table, and a stone-topped cabinet includes refreshments. The lights are all dimmable, walls feature cool-toned artwork, and the scallop-patterned carpet tile mimics the color of wet sand—the ideal alternative for spa-goers who prefer tranquility to the more social lounge area.
—by Laura Waldon