The Lowdown:
The second Rosewood Hotels & Resort in southeast Asia, the new Rosewood Luang Prabang builds on Laos' rich history as a former part of French Indochina. As such, the resort blends nature with historic Laotian and French architecture, cuisine and experience, and is located in the mountainous jungle.
RELATED: Casa Angelina Unveils Spa Renovations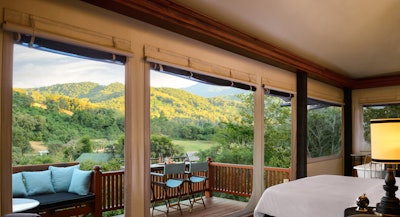 Standout Features:
Rosewood's Sense Spa is comprised of three tented hillside villas overlooking the lush landscape. Treatments are inspired by Laotian healing techniques and incorporate fresh, local ingredients; guests can even customize their spa experience by selecting native herbs and other concoction components from the resort's organic garden. One luxe service is the Traditional Lao Herbal Poultice (90 min./$135), which brings ancient healing practices to life via a combination of heat and freshly picked herbs. Originally applied for farmers' labor-related back pain, it's believed to provide the healing effects of massage and the therapeutic benefits of acupuncture. Another option, the Hmong Herbal Massage (90 min./$135), is performed by native healer Mr. Xong with plants foraged from the surrounding forest. These ingredients deliver an allover warming sensation, relieve aches and pains, help improve circulation and aid detoxification.
—by Patrick Lewis