Need to Know
One of the most talked-about towns in southern Belize is Placencia: Not only did The New York Times declare it one of "52 Places to Go in 2017," but it's also home to Naïa Resort and Spa, which opened in January. Situated on a mile-long stretch of beach overlooking the Caribbean Sea, the luxury retreat extends through a private 200-acre reserve. Hidden in the sprawl is a series of forested islands containing the 10,000-square-foot Naïa Spa, made up of six treatment rooms, a café, juice bar, fitness center, and yoga and movement studio.
RELATED: Saxon Spa in South Africa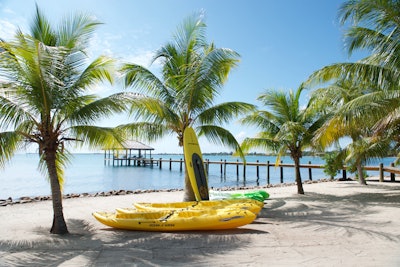 Noteworthy
The spa's name derives from the Naiad nymphs in ancient Greek mythology, who are said to have governed fountains, lagoons, rivers and streams. According to sales and marketing director Clare Dobson, Naïa Spa reflects this free-spirited nature and the interplay between land and water. The couples' spa suite, located on its own island, features a double rain shower and a private balcony perched over a lily-covered lagoon—views frequently enjoyed by duos during romantic escapes.
RELATED: Four Fabulous Properties that Showcase Mexico's Rich Spa Heritage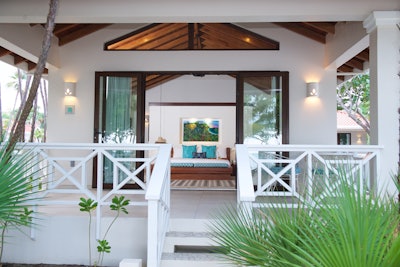 Signature Service
Naïa Spa could also be considered a wellness sanctuary, says Dobson, because it focuses on providing multi-sensory Belizean experiences inspired by the country's culture and traditions. Local artisans and traditional healers craft products using indigenous ingredients, such as coconut, chocolate and spices. For the Mayan Cacao & Spice Wrap (60-90 min./$115-$140), the client's body is scrubbed with a mix of cacao powder and coconut oil, then layered with warm towels. An aromatic face and scalp massage follows, and the service ends with the application of a cinnamon-infused lotion to naturally heat and firm the skin.
–by Marina Kay