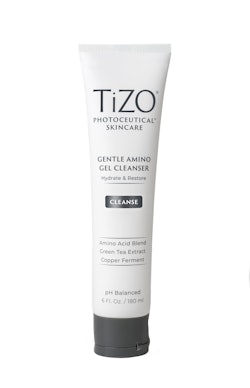 TiZO Gentle Amino Gel Cleanser is a new addition to its collection that complements TiZO's skincare line in the fight against photodamage. The cleanser is formulated with a blend of 11 amino acids and antioxidant-rich green tea extract in a light, clear gel to leave skin feeling hydrated, revitalized and radiant.
The pH-balanced cleanser is formulated with botanical cleansing ingredients that effectively remove makeup and impurities from the skin and is completely free of preservatives. Its light lather creates a luxurious cleansing experience that doesn't strip the skin of its natural moisture.
The Gel Cleanser includes a unique blend of nourishing ingredients that work together to help soothe, while promoting hydration and rejuvenating the skin, as well as green tea extract, a powerful antioxidant that offers protection against free radicals and environmental stressors. Copper ferment is also included to condition and moisturize the dermis, ensuring optimal skin health.
TiZO Sunscreens and Skincare is part of Fallene, Ltd.
Main Benefits:
Blend of 11 Amino Acids: 

Hydrates and protects skin's moisture balance

Green Tea Extract: 

Soothing and nourishing antioxidant

Copper Ferment: 

Conditions and moisturizes

Glycerin: 

Draws moisture to the skin