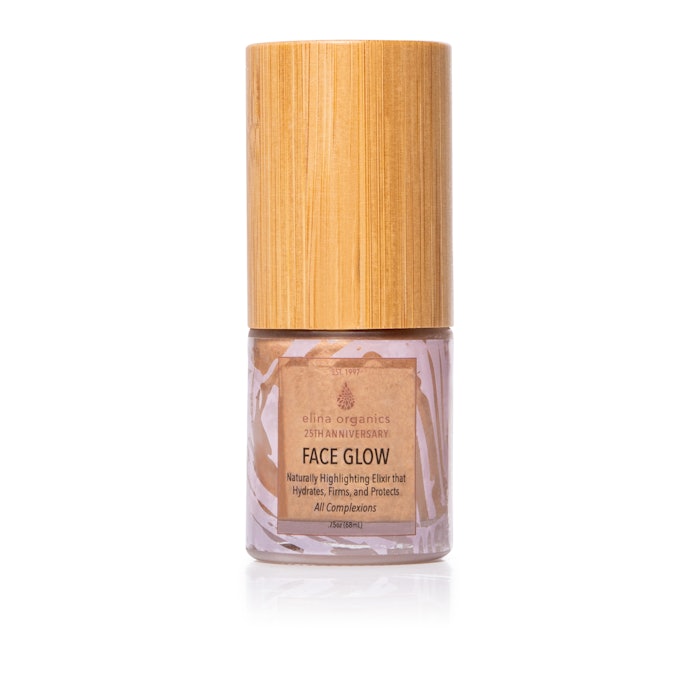 Elina Organics Face Glow is a light and versatile skin-soothing elixir that is available in pearl and bronze shades. It contains a blend of organic botanicals and minerals that leave a luminous glow on all complexions. Underneath the shimmering glow, hyaluronic acid and ceramides deeply hydrate and strengthen the skin barrier, promoting plumpness and retaining moisture.
Beta-carotene enhances resilience for a smooth and firm appearance. Freshwater pearls and rye seeds provide antioxidant-rich nourishment, brightening complexion while minimizing pores and other signs of aging. The skin will feel revitalized and calmed from the fermented sea kelp, leaving it with a radiant and rejuvenated finish. As an added benefit, this elixir contains zinc oxide, which offers broad-spectrum sun protection.
This product can be used in numerous ways—on its own, mixed with foundation or moisturizer, or as the finishing touch on top of your makeup as a highlighter.
Elina Organics also released a Body Glow elixir that is available in Silk and Big Star
"Just because summer is over does not mean the summer glow has to fade," said Elina Fedotova, founder of Elina Organics. "Our Face Glow is available in two shades – Pearl and Bronze – and is formulated to hydrate, firm and even protect all complexions as it features zinc oxide, which offers broad-spectrum sun protection."