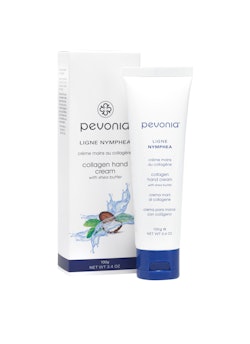 Pevonia Collagen Hand Cream moisturizes and rejuvenates skin, visibly improving aging signs on the hands. It also offers natural sun protection in a mindful formula with a fluffy, light, non-greasy texture to ensure broad appeal.
This luxurious powerhouse formula features highly absorbable Marine Collagen Polypeptides for maximum repair, deep moisture retention and visible smoothing and plumping benefits. It is crafted for multiple youth-enhancing benefits and also contains anti-free radicals beta-glucan, and green tea extract.
The Pevonia Collagen Hand Cream also helps hands withstand wintry weather and counteract hard water effects. Its daily use aids in promoting healthy cuticles for stronger, healthier nails. Ideal for softening, smoothing and soothing skin sensitivity, and great after manicures.
Recommended use after hand washing, sanitizing and for anyone experiencing hand dryness, dehydration, sensitivity, irritation, visible signs of aging and to combat external aggressors. Can also be used as needed and as an intensive overnight rejuvenating hand treatment.
Main Benefits:
Deeply moisturize and rejuvenate, visibly improving aging signs
Smooth, plump, and soften hands while reducing the feeling of dryness and tightness
Serve as a multi-zone solution for hands, nails, and cuticles with this one high-performing product
Increase skin tolerance to damaging agents, repairing and delivering a long-lasting protective shield
Infuse moisturizing benefits with its non-greasy, ultralight formula and uplifting aroma
Key Ingredients:
Collagen Polypeptides: From marine origin. Smooths and plumps. Preserves moisture.
Shea Butter: Emollient, moisturizes, helps expedite healing, protects, soothes. Supports diffusion of ingredients.
Sodium Hyaluronate (Hyaluronic Acid): From sugar beets. Deeply moisturizes, plumps. Promotes skin health.
Aloe Vera: Repairs and moisturizes. Emollient and protective.
Propanediol: From non-GMO corn. Deeply moisturizing properties. Promotes skin barrier health.