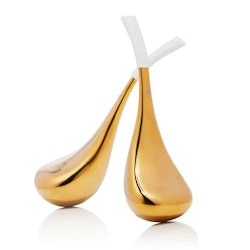 Angela Caglia Skincare's Gold Cryo Facial Set consists of two 18K gold plated wands that provide extreme cooling therapy to the skin to reveal a refreshed complexion. A few minutes of this cooling massage revitalizes tired skin, helps minimize the appearance of pores, softens the appearance of fine lines, and highlights the appearance of firmer skin. The set helps skin care products achieve a deeper penetration.
Key Benefits
Helps reduce the appearance of puffiness and dark circles.
Soothes redness
Helps lessen the appearance of pores and fine lines.
424-343-0253, www.angelacaglia.com