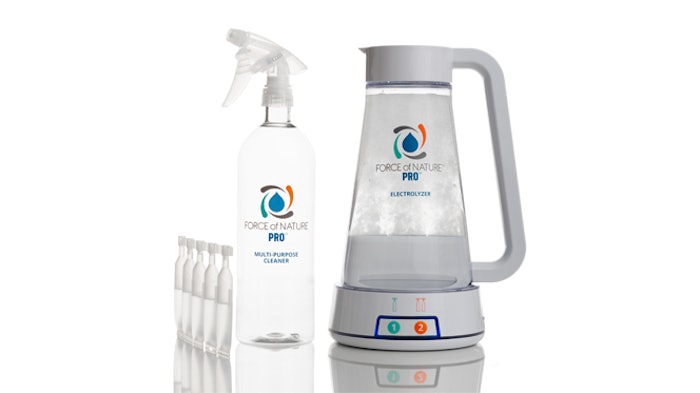 Force of Nature has launched a commercial-sized Force of Nature Pro for businesses and organizations of all sizes, including spas, health clubs, hotels and more. Force of Nature is a hospital-grade disinfectant that kills 99.9% of germs including Staph, MRSA, Salmonella, Listeria, Pseudomonas, Norovirus, and Influenza A. It is on the EPA's List N, which includes the disinfectants approved for use against SARS-CoV-2 (Covid-19). 
Force of Nature Pro is an appliance that uses electricity to convert tap water, plus a capsule of salt, water and vinegar, into an all-in-one multi-surface cleaner, deodorizer and EPA-registered sanitizer and disinfectant. The cleaner is strong enough to replace all of the cleaning chemicals businesses use most, including bleach, deodorizers, disinfectant sprays and wipes, sanitizers, and glass and bathroom cleaners. 
The brand's goal is to  help spas and wellness destinations become more sustainable by eliminating single-use plastic bottles, reducing plastic waste by 97% and avoiding washing cleaning chemicals down the drain.  
Force of Nature Pro comes in two different sizes and has planet-friendly reusable bottles. It can be made on demand when needed. It is also Green Seal Certified, which means it meets the highest standards for protecting human health, preserving the climate, ensuring clean water and minimizing waste.